 Here at Beaut.ie, we have skin on the brain. One of the most common (and distressing) skin issues is eczema, and we're always on the lookout for really effective products which will tip the scale in your favour in the battle against it.
Whether you're the sufferer, or you have a friend or child who exhibits inappropriate public scratching and is driven crazy by this debilitating skin condition, good products can help to restore the skin's compromised barrier system, helping it to keep allergens out as it is supposed to.
The new AtoControl range from Eucerin features several products which will really help. They're not limited to eczema sufferers; the range is aimed at dry, irritated, chapped or itchy skin.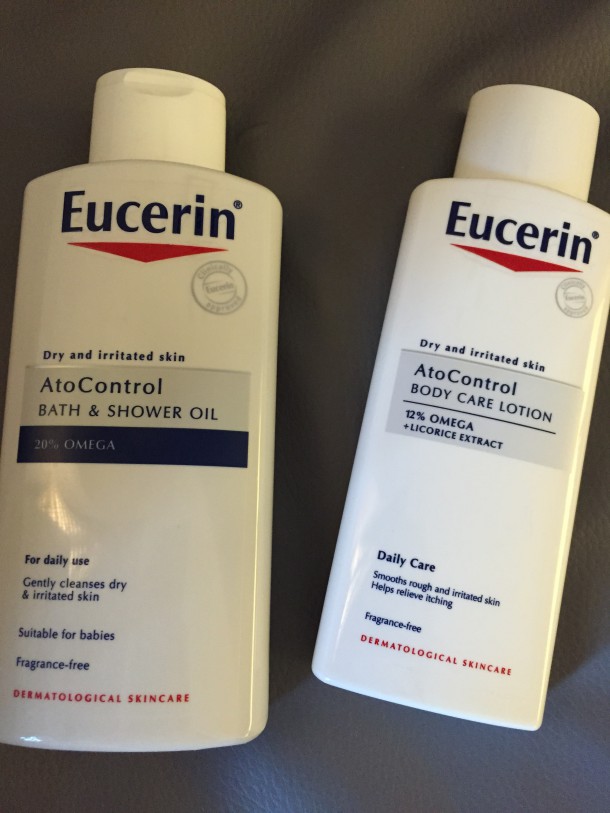 Eucerin AtoControl Daily Care Bath & Shower Gel (€15.99)
As is always the case, protective skincare (like this range) is a bit boring. However, it entirely makes up for the lack of scent by being incredibly effective and nourishing to skin. This shower oil is perfect for daily use. It cleanses without stripping the skin like soap. Since I had trouble with eczema on my body a couple of years ago, I only use soap-free shower oils like this one. I've never had trouble since.
It doesn't smell unpleasant, it just lacks the luxurious feel of a scented product. Remember that fragrance means high volumes of alcohol, and alcohol is not eczema's friend.
Eucerin AtoControl Daily Care Body Lotion (€16.99)
Advertised
This cream is rich and thick without being overly sticky, and is suitable for babies from one month old. I've been using this for two weeks and it's kept my skin in tip top condition. The usual powdery dryness that I might find on areas like legs in the colder winter months hasn't reared its ugly head!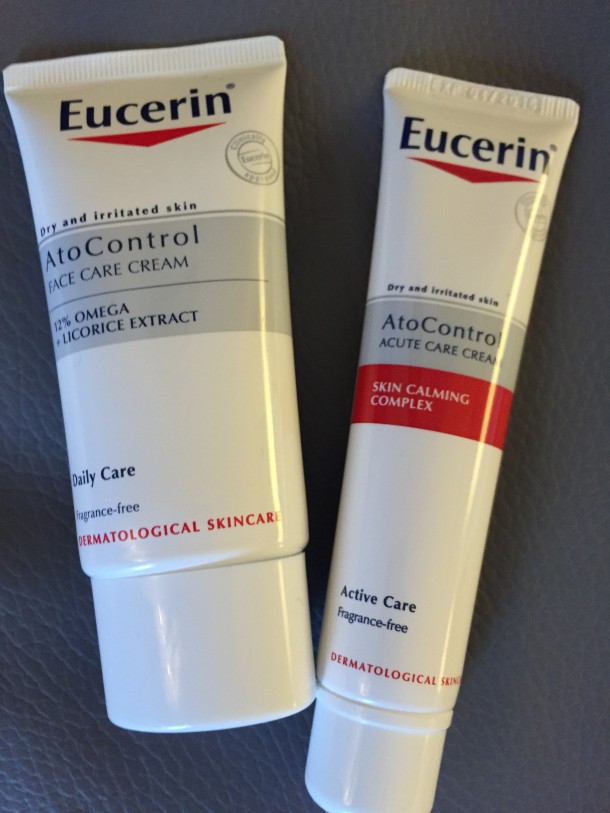 Eucerin AtoControl Daily Care Face Cream (€14.99)
I'm shocked by how much I love this. Generally, creams which are designed to bolster the skin's natural barrier don't make the best base for makeup. They can either produce a sort of film over the skin which doesn't sit well under makeup, or be so rich that they create a shine on your base. This one feels beautifully silky and nourishing on the skin - the texture is very unusual.
It is enriched with several very nice oils, but doesn't feel greasy. I'd highly recommend this for anyone with a drier skin type. It's lovely.
Eucerin AtoControl Acute Care Cream (€12.99)
This is Eucerin's answer to La Roche Posay's cult Cicaplast Baume B5, which is a sort of skin cure-all for compromised or incredibly dry skin. This is the product you pull out of the cabinet when you're in a fix. A very bad flaky patch, skin which is raw from the cold weather, or any other soreness caused by dryness will benefit from this. It's a good one to keep in the house, and will provide a barrier to protect further damage to compromised skin.
Advertised
Are you suffering with eczema? What works for you? Share in the comments!