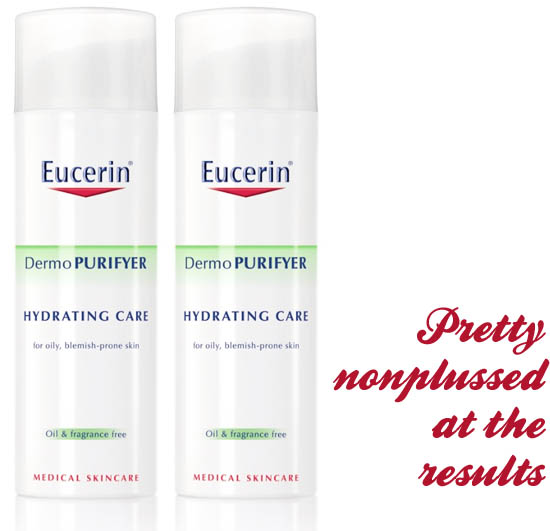 Waiting eight-to-12 weeks for a product to make a difference to my skin doesn't really work for me, partly because I'm impatient and want results NOW and partly because there's little hope of me really remembering in detail what my skin looked like three months ago.
(Although I do vividly remember the awful crop of spots that put in an appearance around Christmas last year, so maybe I'm better at total skin recall than I give myself credit for. Although it's more likely they were just so hideous that they've left me mentally scarred for life.)
It was the Eucerin brand name (I've had good results with their body products in treating eczema) and the promise of "a healthy-looking, smooth and clearer complexion within four weeks" that sold me on Eucerin DermoPurifyer Hydrating Care, €12.15, which is formulated to moisturise and combat the problems presented by oily, blemish-prone skin.
Timeframe aside, the clinically approved oil- and fragrance-free formula is non-comedogenic and includes active ingredients like natural liqorice extract to help soothe and calm skin, decandiol to help prevent skin irritation, and carnitine to regulate sebum production.
Advertised
I've been using it for about six weeks now, and I'm pretty nonplussed at the results.
While the gel-fluid texture is light and absorbs quickly to leave skin mattified, makes a good base for make-up and does control oil, I don't find it nearly hydrating enough for the dehydrated portions of my face. And while it hasn't made my blackheads and breakouts any worse, I haven't noticed any improvement, either; this is probably a better choice for oily skins who don't suffer with any dryness and who need a no-frills moisturiser to keep their skin on an even keel.
I'll continue to use Eucerin DermoPurifyer Hydrating Care in the short-term, but only until I decide what to replace it with.
(Availability's somewhat limited in Ireland if you'd like to try it, by the way: currently this particular product is only available in two Boots branches - Liffey Valley and Half Moon Street, Cork)