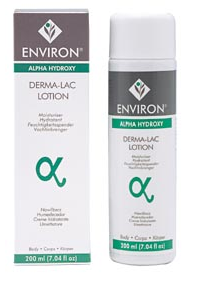 Lynnie's posted a couple of times about the amazing results she's gotten on her keratosis pilaris - you know, those sort of goosebumpy lumps on the upper arms that are caused by rough, sometimes itchy keratin plugs? She's using a Eucerin product and found it to be brilliant.
But it hasn't done the job for all of you, so I thought you might like to hear about Environ's Derma-Lac Lotion, €51.75. The brand's founder, Dr Des Fernandes, says that, "the solution is to use a neutralised lactic acid based product to increase hydration as well as to exfoliate the area". Enter Derma-Lac. Containing neutralised lactic acid (a natural AHA derived from fermented sugar) to exfoliate and refine congested or dry skin, it helps to clear the problem by gently dissolving away the dead skin flakes - keratin - which block the follicles in keratosis pilaris, and it will also help out if ingrown hairs are causing you a further problem.
Dr Fernandes does recommend that you stick with it though: "Apply this daily for about one month and then introduce a vitamin A based oil. This can be mixed with the other lotion in equal quantities and within six months the arms will be beautifully smooth. Maintain the treatment for a year and you should never again get this problem", he advises.
Advertised
Right so! Where to buy? Environ products are available through salons nationwide, including our fave, Akina. Call 44 (0)20 8450 2020 to find the nearest stockist.