 We have just tried this beautiful illuminating moisture balm and can't believe what we've been missing out on!
The Bobbi Brown illuminating moisture balm is a primer meets skincare meets illuminator. The most stand out feature is the way it feels when it goes on. If you use your fingers to spread it onto your face it will feel like a cross between a cream and a balm. Or rather it is white so looks like a cream but it feels gloriously balmy on your skin.
Bobbi Brown Illuminating Moisture Balm €56.50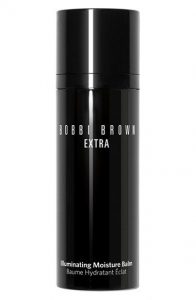 Advertised
The moisture balm contains reflective pearls which will bounce light off your skin giving you natural radiance. It also has lychee extract which energizes and brightens your skin over time with continued use. I can tell you now I will be continuing to use this!
This one is ideal for anyone who feels their skin is looking dull, tired and grey but it is most suited to dry and dehydrated or mature skin. You can use it as a treatment at night or as a base for your makeup. It leaves your skin silky and smooths over any dry patches so make up looks even and smooth over it. It's also a good alternative to shimmery highlighter powders. You can apply it after foundation along the tips of your cheekbones for a subtle (non-glitter) highlight.
How do you prepare your skin before applying your foundation?