 SPONSORED POST
Given how rarely we see the sun here in Ireland, there's nothing better than waking up to those glorious mornings when that big ball of yellow heat in the sky decides to grace us with its presence; our moods lift, our faces warm and our bodies feel all tingly as the Vitamin D works its elusive magic.
As much as it cheers us up however, most of us will be well aware that we're best off keeping our skin under wraps. Save yourself the grief of a burnt nose, and opt for a luxurious self-tanning elixir.
After one too many tanning disasters in which we've wound up smelling less like a person and more like a curry plant, we've made it our business to find a way of achieving that gorgeous golden glow, as though it were coming straight from the sun. With L'Oréal's new Sublime Bronze Self-Tanning Elixir, we reckon you might be on to a winner.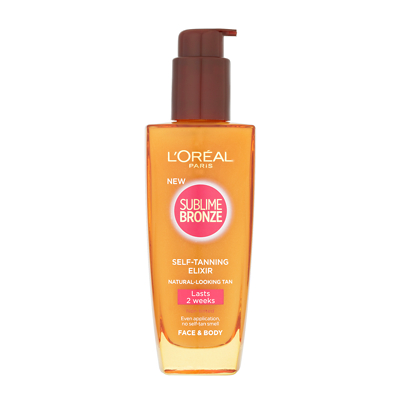 Advertised
To start with, this bad boy lasts for TWO whole weeks, you can build it up as dark as you like with its super easy application, it doesn't smell like a Tikka Masala (unlike so many other products on the market) and it sure as hell doesn't streak. It works on both your body AND your face and given how quickly the serum dries, you won't be left with a bill for new bedsheets. The feel of the elixir on your skin is all kinds of luxurious.
So, savvy skin enthusiasts, avoid the hassle of strap marks this summer and, instead, just fake it 'til you make it with L'Oréal's Sublime Bronze Self-Tanning Elixir.
What are your top tips to fake it like a pro?