 SPONSORED POST
Kicking off with Life and Forbidden Fruit, Ireland's festival season is now well under way.
But how did you get on? Were you prepared? Or were you a little rusty since last year's EP? Whether you've already gotten in the swing of things or find yourself gearing up for the likes of Longitude this weekend, here's our quick guide to getting festival ready.
Clothes
In 2014, the rules are out the window. Wear whatever the hell you want, once you feel good in it. In terms of style, what we're noticing from festivals around the world is that really and truly anything goes. The only thing to bring to a festival this year is confidence. No longer are you confined to the Daisy Dukes and chunky wellies (though in Ireland the wellies will never be a bad call) that dominated the festivals of days gone by. If you look to the likes of Coachella, you'll note that not everyone is conforming to traditional festival attire. Instead, they're having fun and expressing their own personalities. Once the rain holds off, your wardrobe is your oyster.
Hair, hats and other things
There's no better time to experiment with accessories than at a festival. This year, floral headbands have returned, and it seems the bigger the better, à la Lana Del Ray. If you'd rather not look like a bride from the 60s, big hats are also in. Kelly Brook's a big fan and, of course, so too is Pharrell Williams. Though whether you can guarantee that it won't get fleeced off your head at an Irish festival is another thing.
Another trend we spotted at Forbidden Fruit was girls who had adorned their face with stick on jewels. Whatever you do, pick something that suits you and don't throw everything on at once or you'll wind up looking like a sale rack at a vintage store.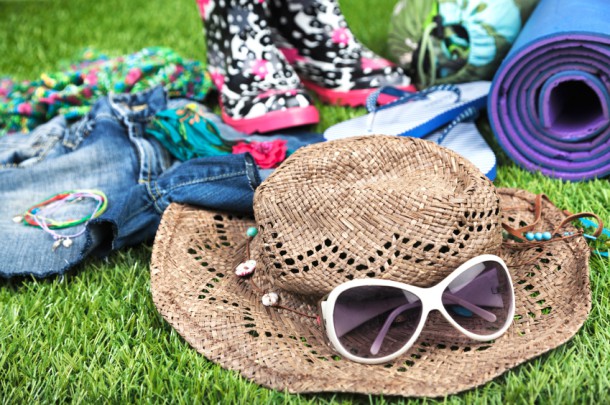 Sunnies
We love making a statement with our sunnies at festivals. You could opt for the fun ones with palm trees and all sorts hanging off them, or you could stick to the failsafe wayfarers. Little word of warning, invest in a copy cat pair for a festival - heaven forbid you lost your real Ray Bans whilst head banging in the mosh pit. '60s style sunnies à la John Lennon are still a prominent feature , should you feel nostalgic.
Advertised
What to bring
Backpacks or bumbags are a must. Don't be arsing around with a bag you've to carry over your shoulder or in your hands. Your hands will be busy dancing and making peace signs as you pose and pout for selfies (now that's a trend we'd love to see die off). Another festival essential has to be a pack of baby wipes, should some undesirable sling mud your way.
And don't turn up without some tissues (should the portaloos be all out), a spare brick phone should your smart phone battery die (it absolutely will), a compact mirror, your lippie and your eye liner. Leave the rest at home, once you're there you really won't care.
The tan
Yes, we're uncovering our legs from the depths of winter and we'd fancy a bit of colour, who wouldn't?
We're out of the thick wooly tights and straight into the cold light of day but don't get too ahead of yourself and wind up tangoed. Get prepped a week in advance of your festival. Don't attempt to self tan without exfoliating away those dead skin cells that've likely been sitting there since 2013. Get your skin silky smooth and then lash on a serum based tan like L'Oréal Paris Sublime Bronze Self-Tanning Elixir. It can work wonders not only on your body, but on your face too and lasts for two whole weeks.
Then, when festival day rocks around, add a line of highlighter down the front of your legs and along your collar bones to enhance your healthy glow.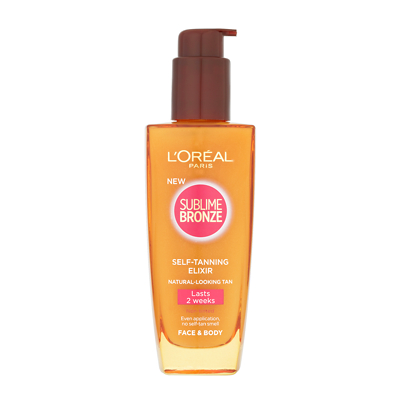 Advertised
Do you have any  festival style tips to share?