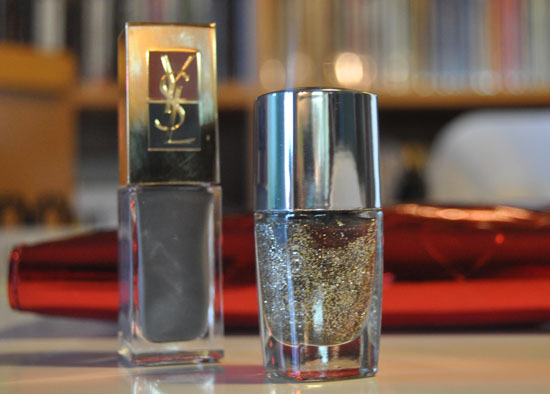 I hate hate hate metallic nail polish. It is, quite frankly, shite. It never looks like proper metal, only a pearly granny-style approximation of it, and bottles of it repulse me. Seriously, I SHUDDER. Yuck. Horrible. (see Lynnie's thoughts on some here, by the way)
That's why I like Minx so much, because it's proper shiny, reflective stuff that looks like molton silver or gold is adorning your talons. Proper order. That's also why I like Lancome's B.B Sand nail polish so much. Because it's not metallic. It's glittery.
And glittery is good. Fine, gorgeous glitter that's super-abundant is better still, and that's what B.B Sand is, a bottle of sparkles in gold and silver that look great on the nail. I've been using this as a French tip since I got it at Lancome's bloggers event back in November, but it's only now that I've finally shelled out for a decent camera that I can take a semi-passable pic of it. My main shade of choice to work this look is a very blue-tinged grey from YSL. It was in the Autumn/Winter 09 collection and is properly called Stormy Grey La Laque - I'm not sure if it's still on counter. B.B Sand definitely is, and it's €20.50.
Want to see how the pair work together? The results are after the cut.
Advertised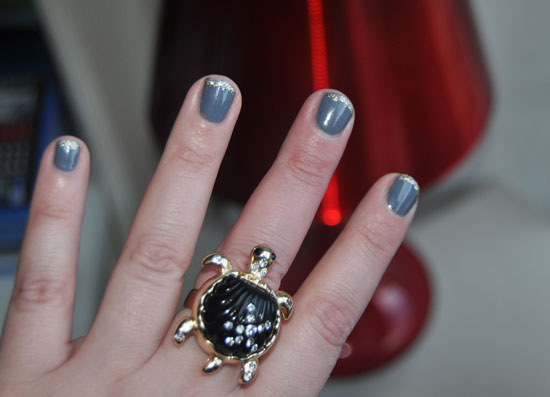 I must say a sad apology for my deyhydrated, fat-looking hands, and crappy short nails which split the second they creep above the finger.
A close up of the tips is below: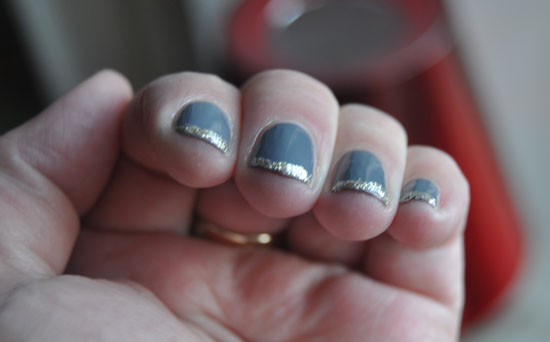 Fancy seeing how it looks on a full nail? Mani-maestro Lynnie's been testing across on her own blog, go have a gander.