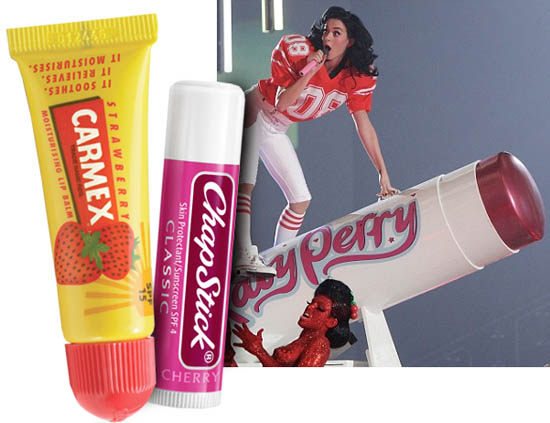 Franch* popsters Air got there first with the Cherry refs but it's of course Katy Perry who brought the whole notion of Cherry Chapstick back into our minds. Carmex is on the fruit-based lipbalmwagon too this year with the new Carmex Strawberry - and the reason I mention all this now is that IT'S BLOODY FREEZING. And lips are SORE.
Like Lynnie, I am a fan of posh lip treats and totally get why you might not like Nuxe's cult Reve de Miel for example - because it has the weirdest dry-slash-gooey texture of any lipbalm I've ever used, that's for sure. But it works.  And is completely my fave balm-type-treat to layer on sore lips, under matte lipsticks and to generally keep flakes at bay.
It's not even too pricey about €12, but this pair of lip-smackers come in well under a fiver - much more pocket-friendly.
Carmex Strawberry is €3.98 and promises all the benefits of the original with a strawberry-tastic taste. Ok, synthetic strawberry. Never mind - this has also got an SPF15 in it and if you're a Carmex fan then I'm betting you'll find it very asseptable indeed.
Cherry Chapstick, €1.99, is a little different in texture and formulation - where Carmex is squeezy and viscous, this is a soft bullet of waxy goodness that helps form a barrier on lips, and it also has an SPF15.
Advertised
To be honest, I don't find that either product is brilliant at repair on my own lips. Sure, they form a film over the skin but once that's worn off, my poor pout goes back to being sore and tight and needing immediate re-application.  That's why I favour a product with some nourishment as well as that all-important barrier function. But if Carmex or Chapstick does it for you then hey - at the price, and with that added SPF, then they're a really great deal.
PSST:
there are TONS more lipbalm recs where those came from. Check out our lipbalm tag for lots of other suggestions at all price-points
Did you know that (ok, according to Wikipedia, so lets not take it as gospel) Chapstick tubes with hidden microphones played a role in the Watergate escandalo?
*total Better off Dead reference