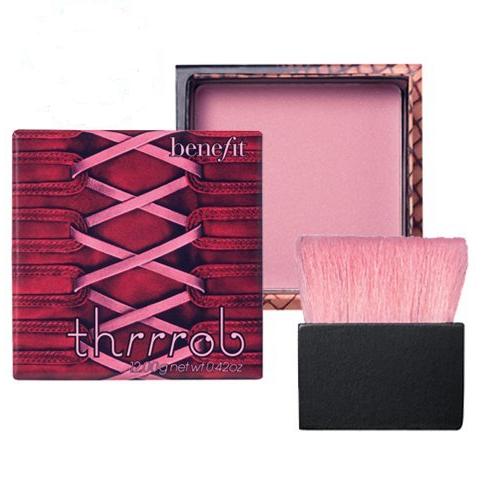 I must confess to being a bit confused by Benefit's application tips for this lovely box of pinkness. Designed to re-create "the flirty flush you get when your heart races", Benefit recommends brushing it lightly across cheekbones, forehead and chin. Now it does have a fairly sheer finish, but I'm still not sure how much my forehead or chin ever blush naturally and if they do, I don't particularly want to enhance the effect.
So instead I stick to my own tried and tested method - I apply it to the apples of my cheeks and then lightly blend it out towards my temples, then lightly brush it in a 'C' shape from just above the ends of my brows down my temples to my cheekbones. It does come with a small square brush, but I find it much easier to apply it with a blush brush. Applied in this way I get a lovely natural glow that lifts my skintone and highlights my cheekbones, without looking unnaturally bright.
The effect that Thrrrob gives is similar to that of Benefit's Dandelion, but it is a lighter and slightly cooler pink, and is more sheer on my skin. It's really hard to overdo it with this, so it's perfect if you find the thought of Coralista a bit scary and should also be very useful if you're planning to follow the trend for minimal blush this season.
Advertised
Priced at €31.50, Thrrrob is available now from Benefit counters.