 "Pucker Up Under the Mistletoe" say NYX and so in the spirit of the season, I've been testing out five of their lip products to see which (if any) will do the job this Christmas. This testing session includes two of the Wicked Lipsticks, a lip liner, a classic lipstick and then a gloss.
And the results are in.
Starting with the "Pumpkin" lip pencil (€4.99), I began drawing it on and then I just kept going to see what it'd look like as a lip base.
In general, there seems to be a divide between lip liners as often they're either hard as nails or a little too soft, but I had a bit of a Goldilocks moment when I realised this was just right. There's a great pigment to this particular pencil, which although labeled as Pumpkin, is a more of a deep salmon with flecks of gold.
Building on the liner, I gave the Wicked Lipstick in "Wrath" a go. It's not a shade I'd personally wear but the copper tone could look really lovely on someone with the right colouring. And in terms of feel and wear, this applied smoothly, wasn't drying at all and lasted well.
Advertised
Next up I have the rather lovely gloss called "Copper Penny" which photographed a bit more pinkish than it looked in person and a nude with the catchy name of... "565-B52".
Both of these are the type of products and shades I really like so they will be going straight into my make up kit, huzzah! The gloss is lovely with a doe foot applicator that makes applying it on the go really easy. I already own a good few of the classic Round Lipsticks (€7.49) in various shades and have always found them to be pigmented, creamy and moisturising.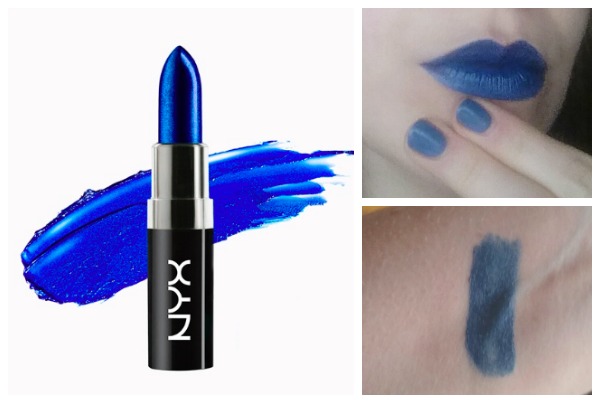 Finally we have... "Sinful" from the Wicked Collection which I was in two minds about even photographing. Honestly, it's just not for me and I cannot think of a time when I might ever need a blue lipstick unless... I build a time machine and go back to 1996 or get a job as an extra on CSI as a cadaver. Sorry guys, it's a no from me. However for anyone who does want a blue lippy in their life, at least you know where to get it now!
Advertised
So all in all, my personal favourites would be the nude lipstick, lip liner (must stock up on a few more of those!) and also the gloss.
Do any of these tickle your fancy?