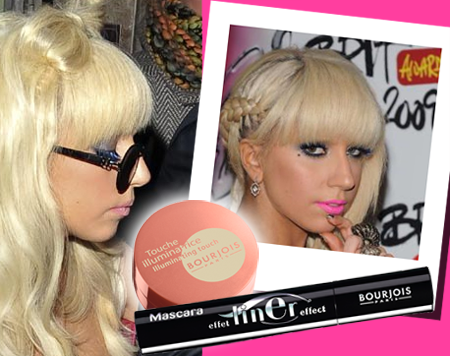 Hair bows created from hair extensions (I want one), lightning bolts painted on with eyeshadow (I'm into it), saucy rubber skirts (wouldn't suit me) and a directional sense of style are all allowing me to put aside the fact that Lady Gaga seems to a) hardly ever cover up her knickers, and b) her music is a tad on the lame side. But I must confess, I think she generally looks great.
For Wednesday night's BRIT awards, her red carpet beauty look was put together by Bourjois' celebrity makeup artist Cassie Lomas. There's a lot going on, and it's pretty dramatic (you'd not be heading out for a pint of milk this dolled up, put it that way) but Cassie explains it thus: "Brights are everywhere this season but we rarely see eyes and lips together. We wanted to captivate with the eyes and seduce with the lips, so this shows how doing both can work."
GaGa's look was heavily 80s-inspired and very much more-is-more - a mantra I can get behind. Smokey definition was used  on the eyes, flawless skin was the order of the day, and electro brights on the lips came courtesy of MAC. So, what else did Cassie use?
Face: MAC Studio Fix was used with a swirl of Bourjois Mineral Powder over the top to set make up but also to highlight the skin, giving a radiant glow.
Advertised
Cheeks: Cheeks were contoured and a light peach was brushed over the apples, and picked up with Bourjois Illuminating Touch.
Eyes: A combination of Bourjois shadows were used, including Dose de Nacre (blue), Dose de Nacre (silver) and gold pigment shadows to get that blended and smoked finish. Liner Feutre Eyeliner and two pairs of Shu Uemura lashes were also used, defined with Bourjois Liner Effect Mascara.
What do you lot reckon? Will you be rockin' this look on your next trip to the local?