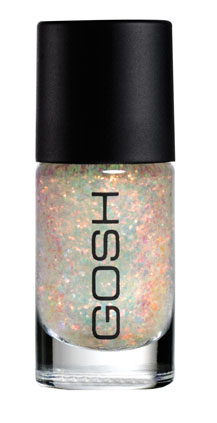 This autumn's hottest polish shades all have one thing going for them - the ability to look different at varying angles, having microshimmer and iridescence built into them to deliver maximum effect. But at €21 for Chanel's Paradoxal and €17 for Estee Lauder's Surreal Violet, you're handing over a chunk of change to try the trend.
SJP's Missing Mole left us a great tip on the Paradoxal post though, which might prove useful for anyone who wants to try a different finish without breaking the bank. "I've just found the mentalest nail polish ever," she wrote.  "It's Gosh's Rainbow and it's this mad glitter top coat except it's not glitter – it's these crazy iridescent flakes that glow pink and orange and green!"
Oh, she had me at crazy iridescent.
Advertised
But there's more:
"It's an exact dupe of one the Yanks are always banging on about – Sally Hansen Hidden Treasure (which apparently is all sold out over there anyway)." So, what's it like on, missis? "I put it over dark purple yesterday and I swear it was like dragon skin! Almost started hyperventilating with joy and Himself thought I'd finally lost it entirely."
You'll find Rainbow at Awear stores and pharmacies and it'll cost you around €8.50 - form an orderly queue though, cos I'm on the hunt for a bottle meself.