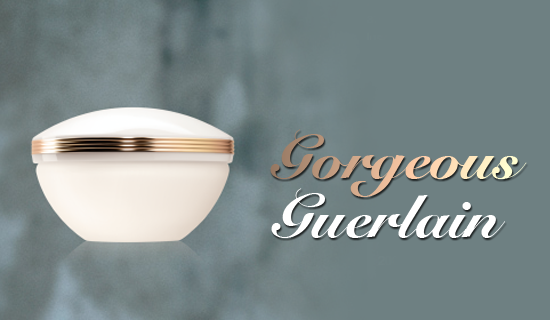 One of my very favourite body lotions is Dove Silk Glow, because it delivers a gorgeous golden shimmer in addition to doing the necessary moisturising thang. But, y'know, while the effect is fairly luxe, the product itself is not especially glam.
Guerlain Idylle Body Cream is an entirely different proposition. Part of a suite of body products launched earlier this year to complement 2009's Idylle fragrance, it is fancy out, with its gold box and glass orb-shaped jar and white-n-gold lid. It's very, very rich in texture but is quickly absorbed to leave skin feeling velvety soft, leaving behind a skinful of shimmering gold micro-pearls.
Sounds fab, right? So what's not to love? Well, it's really perfumed, so while it would be great for layering on underneath your Idylle fragrance it's probably going to compete with any other perfume you'd wear. You really need to like Idylle as a scent to get on with this, so if  musky florals are your thing then it'll be right up your street. The other thing is the price - €72 for 200ml of product is a bit on the OMG side of expensive for a body moisturiser.
Advertised
Even a swanky pants French one.