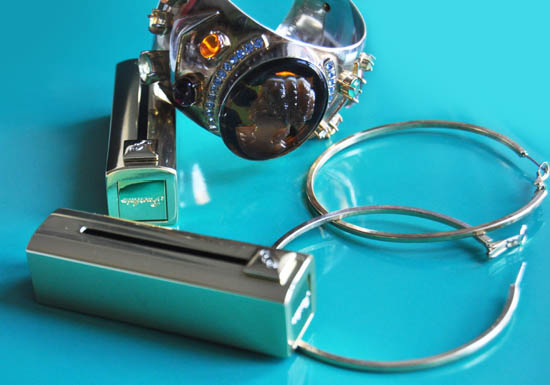 I was at a Guerlain launch yesterday for Terracotta - more on that next week, I've been sitting on the pix until I had a few samples to shoot as well - and the brand also showcased its new James Bondesque lipstick line, Rouge Automatique. I've mentioned it before but one of the things I enjoy about Guerlain is its firm commitment to absolutely knock-out packaging.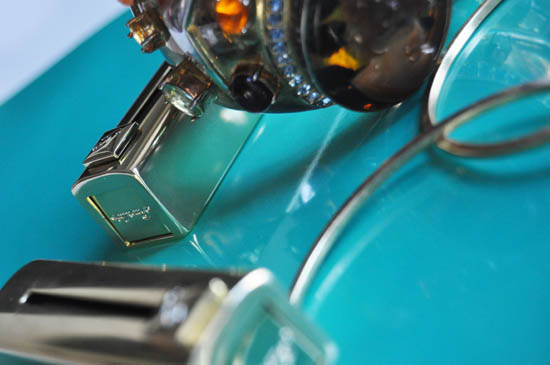 Often hiring in jewellery designers to fabulise up pots of face cream, Guerlain's lipstick and shadow compacts are also incredibly beautiful and covetable - so much so that they're almost like pieces of jewellery all on their own; hence my shots above. The two Rouge Automatiques do not look out of place with a couple of my frequently-worn faux gold accessories. And you know what that means, don't you? Oh yeah - these are going to make amazing handbag candy.
There's already a stellar-looking lippy range from this brand in the form of Rouge G, and fear not, this isn't designed to replace it. Rouge G remains alongside Rouge Automatique, which is a more lightweight (both packaging- and texture-wise) 25-strong collection of so-hot-right-now semi-sheer lipsticks with a soft, satiny finish.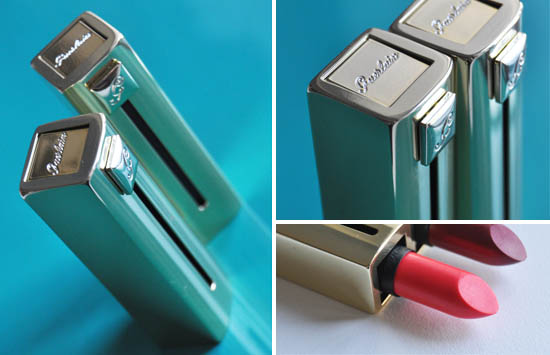 Colours run the gamut from reds to pinks to corals and beiges and each will cost €33 each, landing on counters from May 1st. The most interesting thing about this line is not the shade choice or finish though - nope, it is in fact the mechanism.  A recreation of a 1936 product of the same name, this ain't no ordinary bullet of colour - the little button on the side slides down to push the colour up.
Confused? Wonder no longer - check out my amazing video below which demos, in classic out of focus style - just how it all works.  Martin Scorsese, eat yer heart out:
Advertised
Right, that bit explained, lets take a look at some shades, shall we?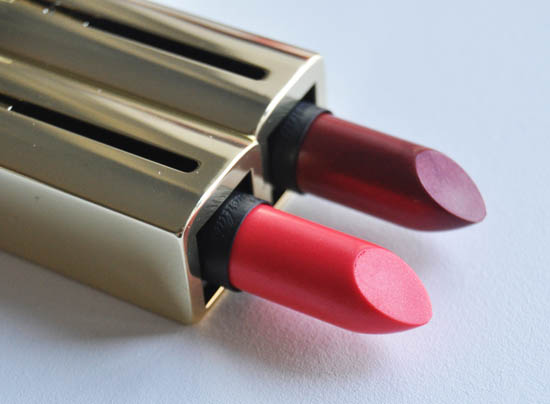 Yes, it is a bit like a red rocket.
Above you're looking at 143 Nahema and 105 Vol de Nuit. Guess which one I like? Oh go on - guess. Yes, that was pretty easy - you'll get me to fall for a coral any day of the week.  I do not like Vol de Nuit one bit - yack, I really am not a fan of brown. However, 143 more than makes up for it.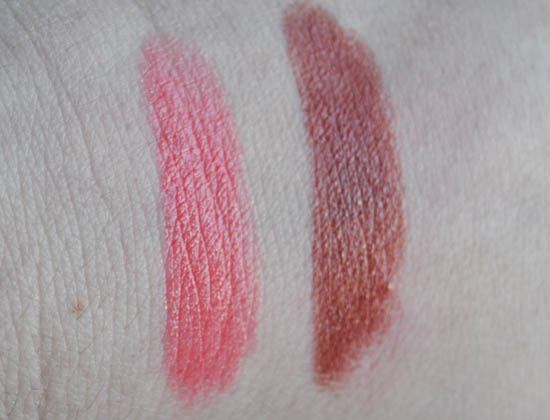 On a sallower skintone I think the brown would work well and if you're darker complexioned, it could also be a really lovely neutral. It just doesn't work for me but Nahema absolutely does. LAHVE IT. In wear (bear in mind I have worn this twice, the second I got it home I lashed it on and this morning to work) the texture feels not dissimilar to the newbies from Chanel or Shiseido. It feels moisturising, slippy and is medium pigmented - not sheer but not opaque either. You won't get great longevity as a result.
Advertised
So, is there anything I don't like about these golden boys?  Forget price - Guerlain is Guerlain and it is a luxury line - but I believe you get what you pay for.   The only thing that irks me slightly is the fact the top of the lipstick casing is quite chunky and can bang off your lips as you apply. Careful angling takes care of that, so it's just a small niggle.
So, what do you think? Have you the gra for a Guerlain Rouge Automatique Lipstick?