 As a beauty fiend, I LOVE nothing better than having a nose around other women's beauty essentials - and I love sharing my current obsessions.  Want to have a gander inside my makeup bag? Ah, sure go on!
Though I buy more makeup than Kim Kardashian buys new clothes – i.e A LOT – I realised that I usually go back to a few solid basics when it comes to my everyday beauty look.  My routine is fairly snappy, so I rely on products that I know won't let me down and it's these babies that help me through the day: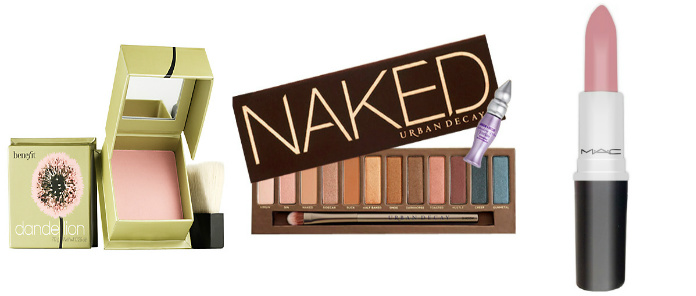 Face Off
I think having a good base is key to applying and setting your foundation, so I use Clarins Daily Energiser Lotion. This gem is lighter than a moisturiser yet still does the job for my oily skin. I then use a dab of super duper Clarins Beauty Flash Balm. I've talked quite a bit about my pale foundations of choice previously (see here), which are usually either by Bobbi Brown or Danity Doll.
Next comes the blusher. Though I'm not usually a huge Benefit fan (I think it tends to be more glitzy packaging over solid products), I do adore the power blush Dandelion. It's pink, it's gorgeous and it makes me look flushed and happy for the whole day. This is one I just wouldn't leave the house without. (For more blusher gorgeousness see  here).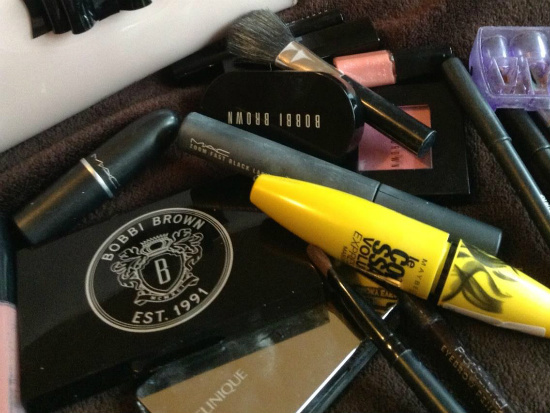 Eye Catching
I tend to use quite minimal eye makeup during the day and will always use a palette so I have more than one colour to play around with. My daily eye shadow colour is brown and so the utter fabulousness of the Naked palette by Urban Decay has never failed me. (We've talked in length about it of course, see here for some more verdicts). If you too wear brown, Naked contains a multitude of nudes, taupes and creams to create a soft, wearable day look. I add a touch of Rimmel eyeliner in white (Black by Mac for the evenings) and coat my lashes with the Colossal Volum' Express Mascara by Maybelline, (this gives great volume with none of the dreaded clumpiness) and my eyes are all set.
Advertised
Get Lippy
To finish off the look, I always go for a lipstick and, more specifically, a Mac lipstick.  I'm not ashamed to say that I collect these by the bucket load (and I ain't the only one, see?) To me these rule the lipstick world with their wide variety of shade choice, texture and simple, yet effective packaging. My current shade obsession is Creme Cup in the Cremesheen line. It's a pretty pink colour that looks very natural against my pale skin tone and nicely moisturises lips to boot. I also find that it goes with virtually any eye shadow or blush really nicely, so it's a very solid one to wear every day.
If you rummage a little further through my makeup bag you'll find a vast variety of brushes, dry shampoo and far too many tubs of Vaseline (don't ask) and I tell you now, if I could fit more in I would!
So, do you use any of the products in my bag? Is there any you want to or would never use? Tell us in the comments below!