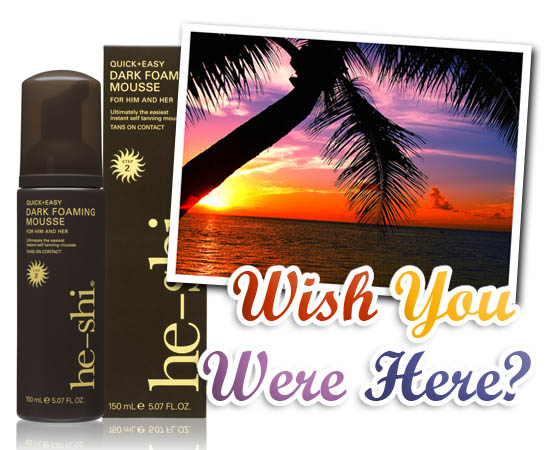 Look away now if you're opting for skin finishing products or wash-off tans, because He-Shi Dark Foaming Mousse, €30, is pretty much the antithesis of those kinds of offerings. It's what I consider to be a proper fake tan, one that you slap on and allow to develop for a couple of hours before showering, and while they're chronically uncool at the minute I still find myself using them every couple of weeks.
It takes me long enough to get ready to go out without having to work an instant tan into the equation, too, so in the long run I often find it easier to use and maintain a tan that develops than an instant version.
I haven't previously tried any He-Shi products, mostly because the brand name put me off, but I was curious to see if this one would make it easy to achieve a deep, just-back-from-two-weeks-in-Tahiti bronze that looked reasonably natural. I can't be arsed with all the layering palaver that magazines advocate to get the look, so a super-deep one-step tan seemed like the ideal shortcut.
On application, He-Shi Dark Foaming Mousse has a surprising strawberry scent that I found quite pleasant. Less pleasant was the distinctly poo-like shade of the mousse but it looked fine once rubbed in and went on smoothly and evenly using my trusty tanning mitt. It sank in quickly: within two minutes skin felt dry to the touch and I was able to get dressed and go about my evening as usual. When I looked at my clothes later, there was barely any transfer, and it didn't come off on my bedclothes that night either. There was a slight tell-tale tan smell as it developed, but it was really minimal.
Advertised
Despite the fact that I was after a deep tan, I was still a bit shocked at just how dark this looked when it had developed fully. Once I'd showered off the guide colour, though, I was delighted with the results.
There wasn't a hint of patchiness or streakiness and the colour, although deep, didn't look unnatural. It hadn't clogged the pores on my chest, which are usually a problem zone, and I was happy that it hadn't gathered around my ankles and elbows (although the moisturiser I'd used as a barrier cream on these areas no doubt played its part, too.)
I haven't had it on long enough yet to judge how well it wears, but for now I'm a happy (brown) bunny.