 PROMOTION
Being in your thirties is a funny time for most women, while in the grand scheme of things you know that you're relatively young, there are occasions when you can feel like you're not. It's like some sort of "age limbo".
For example, the other day I woke up, late, having stupidly stayed up watching something on TV in an effort to unwind after work instead of getting my recommended 8 hours of sleep (that happens more than I care to admit). It wasn't a great start to the day in terms of being a responsible adult… because as we all know, skin doesn't quite bounce back the way it did in our twenties once you get past the big 30. One thing I have done which I consider to be responsible, is "invest" in my skin care, partly as damage limitation for what my general lifestyle is surely doing to my skin and also as an attempt to keep the retched wrinkle-wolf at bay.
They say your 30s are more of a maintenance stage for skin, so I opted for the new Clarins Multi-Active Day cream as it is targeted pretty much towards people like me – 30 somethings who don't get enough sleep, suffer from stress and live in a city that's full of pollution, all of which wreak merry havoc on your complexion. What I like about this one is that it's a multi-tasker, working on fine lines, boosting radiance and offering up anti-oxidants to fight against pollution. Aside from that, the light, floral scent reminds me of a cream my mother used when I was a little girl too (sometimes she'd pop a bit on my nose so I could copy her routine) so there's a slightly nostalgic, comforting element to it in a way too.
Advertised
Anyway, back to the other day - I had my skin sorted, which was great, but unfortunately my put-together, can-do attitude ended there as I realised I only had odd socks to wear and had run out of time for breakfast so would have to make do with a coffee on the go, either that or be late for my financial planning meeting (even saying that makes me feel old). Fast forward to a little later in the day and after picking up a few bits for dinner and carefully choosing a bottle of wine that would work with it – I found myself being asked for ID. Yes, seriously! Someone get that man a drink. I must be doing something right eh?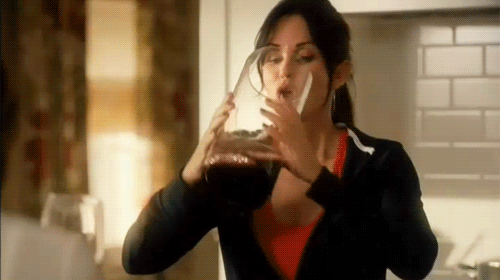 Buoyed by my apparently teenage-like features I headed home, and made sure to do the sensible thing and take off my make-up and slather myself in the Multi-Active night cream (€60) so it could continue the good work its sister had done during the day. Pulled on an old Garfield t-shirt (eh, 80s much?), a pair of leggings and sat down with my glass of Tempranillo because, there are anti-oxidants in red wine too, right?
Do you ever feel like you're in an age-limbo? Do you have a secret, skin care weapon too?