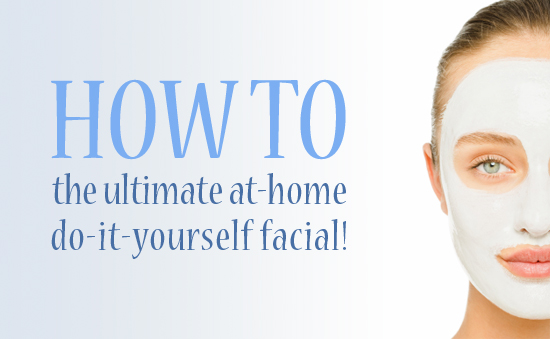 There are many benefits to the DIY home facial. No dreaded panpipes or rainforest-y music for one thing. No danger of an overzealous facialist going to town on your mug either, leaving you feeling slightly battered and definitely not relaxed (it's happened to me and yes, I probably should have said something at the time).
You can relax on the couch in your pyjamas while you wait for masks to do their thing, rather than trying to figure out how to place your arms on the narrow bed to avoid one or both of them falling asleep (it can't only be me this happens to, can it?). You can also catch up on reading magazines or watching tv while you do it - I personally find this more relaxing than lying in a salon, where I tend to spend the time making mental lists of things I need to do instead of letting myself drift off.
And of course, there's the big one - it's free! Assuming you have the products you need at home already, which most of us probably do. And if you don't, you'll definitely pick up a nice scrub or mask for far less than the cost of a salon facial.
It's not always possible to replicate some of the higher-tech salon facials at home, but for a standard cleanse, exfoliate, treatment mask and massage, there's no reason you wouldn't be able to do it just as well at home. So if your skin is in need of a bit of a treat, read on to find out what to do.

1. Cleanse
Tailor the cleanser you use to how your skin is feeling. I really like Liz Earle Cleanse & Polish hot cloth cleanser for when my skin is breaking out, as it cleanses deeply while soothing my skin. A rich soothing cream like REN's Calendula and Arctic Berry Ultracalm cleansing milk is perfect for soothing sensitive skin, or try a cleansing balm to really refresh the skin. Massage the cleanser into your skin and then use a muslin cloth soaked in hot water and wrung out to remove the cleanser.
Advertised
2. Exfoliate
Using a muslin cloth regularly gives skin a gentle exfoliation, but I also like to use an exfoliating product once or twice a week to sweep away dead skin cells, clear congested areas and reveal brighter skin. You can use scrubs with exfoliating particles, like the Matis one Lynnie reviewed a while back, or an enzymatic product like Elemis Papaya Enzyme Peel, which may be more suitable if you find scrubs too harsh. Not only will exfoliating help to clear and brighten your skin, but it will also increase the benefits of whatever treatment you use next, as it is applied to the fresh new skin.
3. Mask
This is the ideal time to apply a face mask. If your skin is dry, try a hydrating mask or if it tends to be more oily, a purifying clay mask is a good option. You can also combine masks if you need to - applying the purifying formula to your t-zone and using a moisturising mask on drier areas like the cheeks. Apply the mask in a generous layer, avoiding the eye area and then relax for 10 minutes or so. The directions on masks tend to vary quite a bit as to how long you should leave them on for. I generally find that hydrating masks can be left as long as you feel comfortable, even overnight in some cases, whereas purifying or radiance-enhancing formulas should be removed after around 10 minutes, to avoid drying the skin out or causing sensitivity.
4. Refresh
Once the mask is removed - refresh your skin with a spritz of thermal water or refreshing spray by Evian, La Roche-Posay or Caudalie or sweep a cotton pad soaked in a gentle toner over your skin. Not only does this feel refreshing, but it also helps moisturizer to sink into the skin.
5. Moisturise
You can just apply your usual moisturiser at this point, but consider extending the skin-pampering experience by applying a serum underneath, such as the antioxidant-rich Boots No 7 Protect & Perfect Intense Serum. Follow that with a soothing and hydrating moisturiser, pat on some eye cream and you're all set for a good night's beauty sleep to finish the process!
Oh, and the final benefit of the DIY facial? No need to worry about the state of your hair as you make your way home from the salon - for some reason I can't make it out of a salon facial without a hairline full of oils and chunks of whatever mask was used, but my hair always stays safe when I'm in charge of the treatment at home!