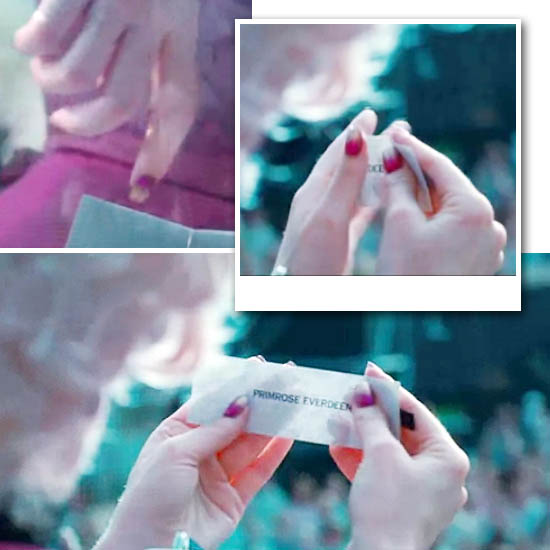 Assuming that you haven't given up all interaction with the outside world for Lent, you'll have heard about The Hunger Games, which Himself and I went to see on Monday night. (Neither of us had read the books; we both really enjoyed the movie; Himself upended his drink onto himself at one point when something happening on screen caused him to jump. Good times!)
There's plenty for beauty buffs to savour throughout the flick - the outrageous and sometimes grotesque hair and make-up of residents of the Capitol, heroine Katniss Everdeen's many braided 'dos - while Effie Trinket's bling-encrusted talons will have nail nerds swooning into their popcorn with delight.
Here's how to nail Effie's look at home.
Magenta/fuchsia nails with gold gradient tips (as seen during the Reaping in District 12, top pic)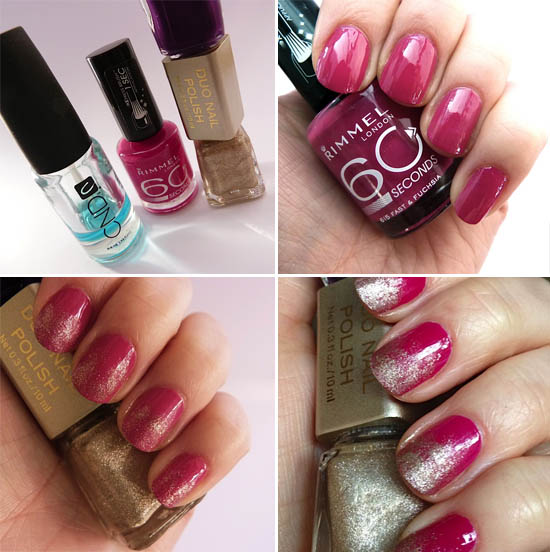 Advertised
Apply a base coat to prevent staining and extend wear time. I like CND Stickey
Apply one-to-two coats of a magenta/fuchsia polish to achieve opaque coverage. Here, I've used Rimmel 60 Seconds in Fast & Fuchsia, which looks pretty well identical to what was used on Elizabeth Banks but it turns out is a bit of a nightmare to photograph
Use an old cosmetic sponge to dab on a gold polish like this one from H&M onto the top half of the nail, concentrating coverage at the tips to achieve a gradated effect. You may find it easiest to sponge on two-to-three thin overlapping layers of gold to get that build up of product, initially covering the top half of the nail, then the top quarter, and finally just the tip
If desired, add a layer of fine gold glitter polish
Seal with top coat to seal and add shine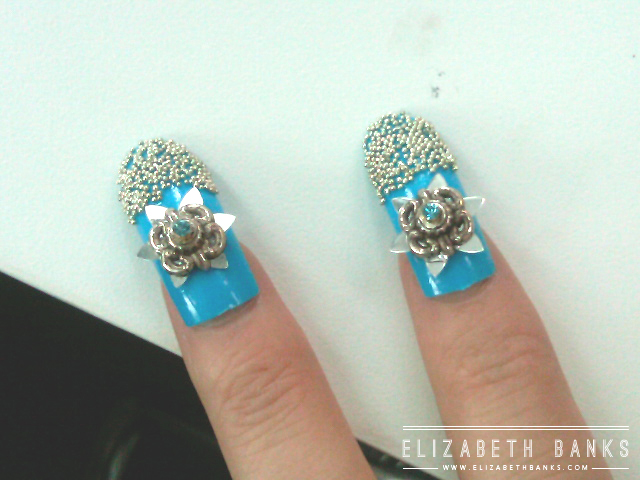 Turquoise nails with silver accents (as seen in the post-training scenes)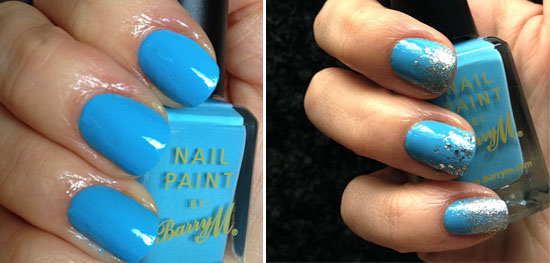 Apply base coat.
Follow with one-to-two coats of a bright blue polish; I went with Barry M Blueberry Ice Cream
At this point, you have a couple of options to achieve an Effie-esque look. However, since I know most of you won't have easy access to tiny silver nail art balls and 3D decorations as seen on the originals above, I recommend drawing inspiration from the design rather than replicating it outright and adding simple silver detailing to the tip of the nail. For this, you could sponge on a silver polish using the method outlined above, or layer on a silver glitter, or use a fine dotting tool/ballpoint pen to create a ball-like polka dot effect (read my polka dot nail tutorial for more on that)
Finish with top coat - and may the odds of your paint job staying put be ever in your favour