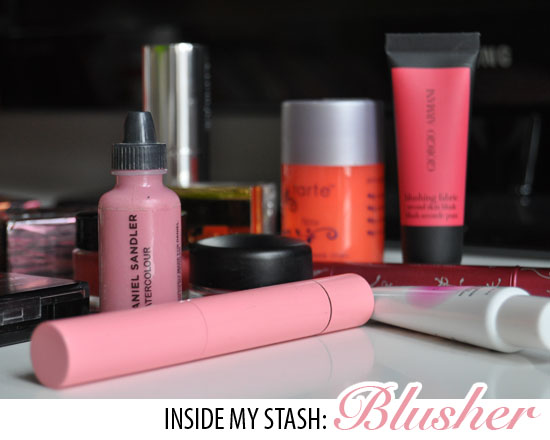 I promised you some more delving inside my own stash of beauty bits, and so far we've checked out my fondness for Dior palettes, taken a gander at the couple of lipsticks I have and last week's turn was that of foundation.
On to one of my favourite products, so: blusher. Oh, how I love this stuff. A proper transformative beauty product, blush genuinely makes a difference to a face of makeup and I really adore it. I tend to mostly go for shades of peach, coral and pale right up to hot pink, and while I'd say I probably favour powder products over cream-based ones, oh hell, who am I kidding? I likes 'em all.
Check after the cut for the low-down on some of the blushers in my stash.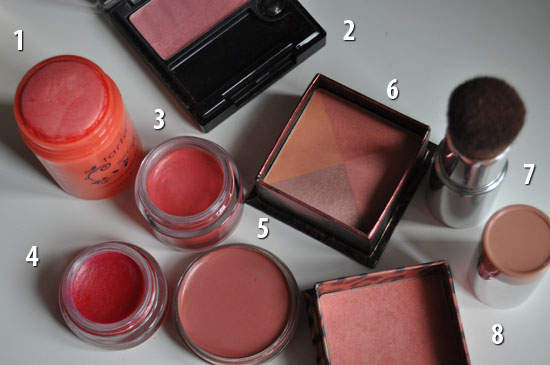 Advertised
Lets kick off with my coral/peach/nude-toned offerings, shall we?
Tarte Natural Cheek Stain in Tipsy - a US brand, I got this in New York and it's an odd one - a push-up stick of light coral colour, it's a bit of a pain to use so doesn't get much love
Revlon Matte Powder Blush in Blushing Berry - a really good pick for a totally non-sparkly, day blush.
Julie Hewitt Cheekie in Peachie - you've already read about my fondness for this one
Mac Just a Pinch Gel Blush - this was a limited edition from last year's A Rose Romance collection
Bobbi Brown Pot Rouge in Powder Pink - Lynnie's quite the fan of this, so check out her thoughts
Benefit Sugarbomb - their newest powder blush, this is nice but didn't quite knock my socks off
Clinique Quick Blush - a very cute little product that's brush and powder blush combined, so good for your handbag
Benefit Coralisata - OH HOW I LOVE THIS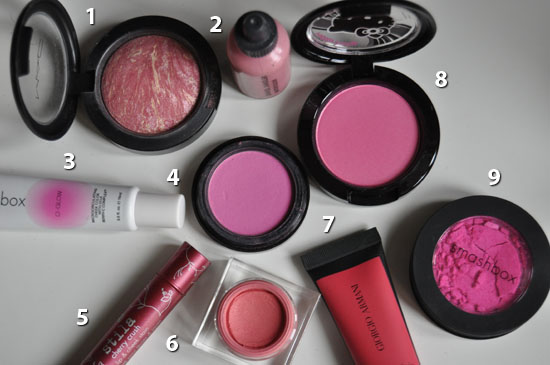 Next up: pinks!
Mac Mineralized Baked Blush in Daft Pink - again, another limited-edition product from one of last year's collections
Daniel Sandler Watercolour in Flush - a very underrated brand, the Daniel Sandler line has some really lovely artistry products, including this very fluid pink blusher
Smashbox O-Glow microcirculating cheek colour - er, I didn't even know I had this until I went rooting. Whoops!
Bobbi Brown Blush in Pale Pink. Ok yeah, I know - it's not exactly pale. But it is very pretty on!
Stila Cherry Crush Lip and Cheek Stain - this is a cute little yoke you can use on lips and cheeks
I LOVE THIS: it's YSL's Creme de Blush in Powdery Pink. Siliconey, blendable, posh and beautifully packaged, it's great.
Giorgio Armani Blushing Fabric in 1 - this is a newbie and we took a look at the range recently
Mac Beauty Powder in Tippy - a lovely pink from the Hello Kitty collection
Smashbox Blush Rush in Radiance. Smash by name, smash by nature, wha? Anyway, love this very, very bright pink, and that is why I rescued it from the bin and am soldiering on with it despite shatter-tasticness
Advertised
Got any of my faves? Leave a comment and let me know!