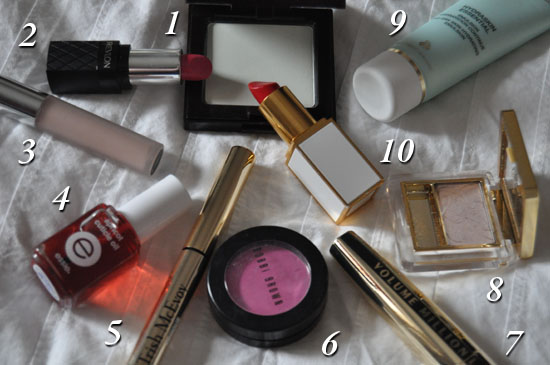 Oh yes, time for another one of those lets-take-a-gander-at-the-stuff-I'm-slapping-on-right-now. By accident, I actually omitted one thing I've re-discovered my love for and that's Jemma Kidd Mineral Skin Nourishing Tint. LOVE THIS. Great for warmer weather, it goes on dewy, gives sheer coverage that's very like a tinted moisturiser, but crucially, as I detest tinted moisturisers, this doesn't immediately fill my chin with gunk.
So, what else am I using recently? I've been a bit uninspired beauty-wise the past month or so - it's been warm, stuff has been sliding off and I have been up to my tonsils with work and travel too, so I'm wrecked. Most days at the moment I'm not even using any makeup, but when I am, here's what I'm reaching for:
Advertised
This is Laura Mercier Matte Translucent powder. I'm lightly dusting this on with a big, soft powder brush and rest assured, it doesn't come out white on the skin but does really deliver a matte finish so I'm undecided about it as of yet - more testing required on this one
One of Revlon's new Colourburst Lipsticks, this is Carnation and it's a very pretty summer colour that I favour at the moment because it's warm. Slightly more pearlised than I'd go for normally, this is quick and easy to swipe on before work and lasts past my morning coffee - but not much more than that. Moisturising, the formulation is quite sheer and delivers a nice shine, so a good bet for a lipstick novice, I reckon.
The much-beloved Trish McEvoy Eye Base Essential in Demure. You can read my ravings on that elsewhere on the blog
Essie Apricot cuticle oil - I picked this up in Boots in Liffey Valley a while ago as part of my on-going (when I remember to do it, that is) campaign to improve the condition of my nails, which split, flake and crack at the slightest encouragment. No real report on this yet, as I've only just found it again, and am trying to apply it nightly before bed.
Another Trish McEvoy-er, this is a 24 hour eye shadow and liner, which was recently released in three metallic shades. I've got crystal gray, and while not a dupe for Mac's recent and brillo Dirty Greaspaint stick, is not a bad substitute at all
I can't find my Coralista at the moment - buried beneath a pile of crap, no doubt - so I've gone back to another blusher fave - it's Bobbi Brown Pale Pink. Love this, I do
This is my current go-to for day mascara. It's L'Oreal Paris Volume Million Lashes and you can see what else I think of it here
Estee Lauder Pure Colour Shadow in Tempting Mocha is getting so much use on my face recently - this is a beautiful creamy taupe that's all I'm using on eyes a lot of the the time right now - I brush a little on, blend it slightly and go. It lasts, doesn't cause nasty creasing and I'm altogether pleased with it.
Now, this is a surprise for me - we told you about this well-priced Darphin moisturiser a while ago and I didn't think it'd do for my skin at all. But I kept it for some reason - and this is precisely the sort of thing I'd generally pass on to The Other Beaut.ie sister as it'd suit her skin. I'm glad I hung onto Hydraskin Essential as it happens, because it's proving a fine companion to me at the moment now that the weather's nice and skin doesn't need quite the levels of thick gloop it was screaming for all winter
Lastly, when I want a red at the moment all I'm reaching for is Tom Ford Private Blend lipstick in Cherry Lush. I love this - and well I might considering it costs almost half a hundred Euro. Ouch, but I daresay, worth it.
Tried any of these products yourself? Liked 'em? Loathed 'em? Leave us a comment!