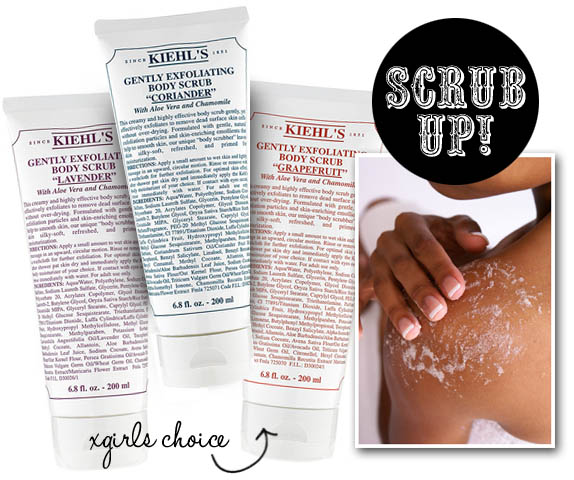 Despite my love of all things skincare-related, a body scrub is not usually something I use a lot. This is not because I have naturally fantastic skin that needs no exfoliation, but because I frequently use my miraculous Japanese wash cloth from Muji in the shower, which removes the need for a separate scrub product. However, I had got out of the habit of using it recently and my skin was suffering the effects of seasonal changes, so I decided to add a scrub into my routine.
Kiehl's Gently Exfoliating Body Scrub, €26, is available in a number of fragrances and I chose Grapefruit (Lavender and Coriander are the other options). This is a white, creamy scrub that combines rounded microspheres with natural exfoliating ingredients such as rice starch and the luffa cylindrica fruit (the fibres of this exotic plant are often used to exfoliate) in a gentle base with skin-calming and hydrating ingredients such as glycerin, aloe vera and oat flour.
The texture makes this scrub very easy to use. Applied to wet skin it's still thick enough to "stick" to the skin long enough to get a good scrub out of it and it spreads easily on the skin. It also has a satisfactory level of "scrubbiness" - I hate when I use a scrub product that doesn't feel like it's doing anything, but this one feels like it's working as I use it, without being too harsh.
Advertised
Post application, my skin is smooth and baby-soft - I always finish up with a generous layer of body lotion afterwards, but my skin certainly doesn't feel dried out by the scrub. In fact I'm pretty impressed by how effective it can be, while leaving my skin feeling comfortable and hydrated.
The grapefruit fragrance is pretty mild - it's noticeable, but not in a really mouth-watering true to life way. It's pleasant, however, and fits the texture of the scrub. The squeeze tube packaging with a flip-top lid is also very handy for use in the shower.
All in all I'm pretty happy with this product. It's not the cheapest, and certainly not if you compare it with the homemade options, but for the price you get a very effective product that does what you want it to do and is suitable even for dry, sensitive skin.