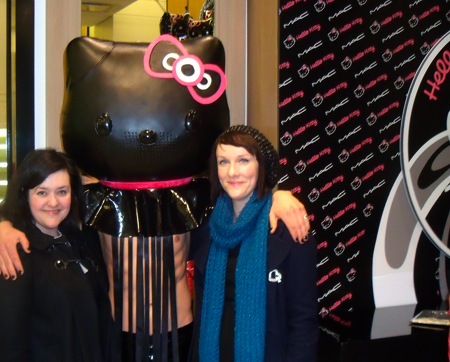 Oh hamburgers. I'll just admit it. There's no way this is as good as getting snapped with it's-only-Mr-friggin'-Darcy, but while wandering round Bloomingdales on Fifth Avenue during the weekend, we ran into a Hello Kitty S&M-style man, and we just had to get our photo taken with him. Ah, it would have been a sin not to. Above is myself (looking horrible on the left), HK S&M-style bloke and my mate Lisa.
The one consolation I have is that Colin Firth couldn't rock a gimp mask and shiny PVC trews as well as this guy. Well, probably not...
Moving swiftly on to the matter at hand: one of the things I like a lot about this collaboration is that the majority of the shades are pretty wearable (if on the kitsch side), and the other thing is, while Hello Kitty is a bit of a 'put away those foolish things' sort of infatuation, this collection symbolises something very important about cosmetics - the fun factor.
We're endlessly bombarded by pentapeptides this, glycation that and nano-shennanigans the other,  so it's refreshing to have something out that's unashamedly fun and frivolous, celebrating making up and being creative with the process.  I buy into it based on that alone - oh, and the cute kitty-adorned packaging too, of course.
Want to see the goodies on offer? I've got shots of loads of it for your edification after the cut. But first - my picks. I got my hands on some pre-release goodies like the Eyeshadow quad in Too Dolly, €48, which is very me. A nice mix of mattes and shimmers make this a good buy for someone who liked Lancome's Pink Punk and Black palette, but who was put off by all those pinks. The 80s green in this adds a foil to saccharine shades.
I also got a Tinted Lip Conditoner, €17, in Pink Fish, but to be honest, I don't really rate these. So many other brands do amazing lip balm products so I just think, stick to what yer good at, MAC.  My star buy would be the Beauty Powder compact: pretty handbag candy it may be, it's also a good product for damping down daily shine, and you'll use it. €24.50 of your eurobucks for that one.
Advertised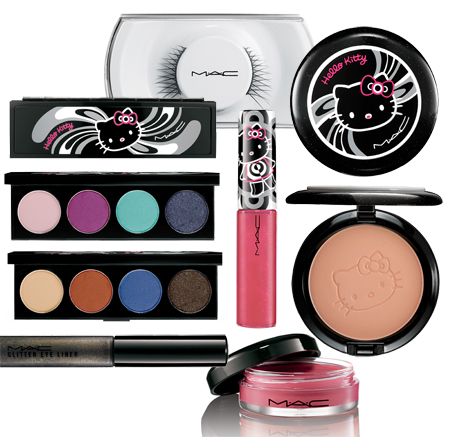 Clockwise from top left: Hello Kitty Lash, €12; Beauty Powder in Tahitian Sand, €24.50; Tinted Lip Conditioner in Pink Fish, €17; Glitter Eye Liner in Her Glitz, €21; Eyeshadow x 4 in Lucky Tom and Too Dolly, €48; Lipglass in Sheer Neon, €17. There's much more on offer too: nail lacquer, blush, gloss and lipsticks in lots of shades as well as pigments.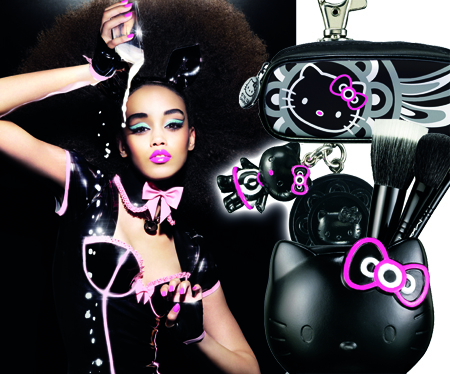 Above is a trio of accessories, also a big part of the collection. Top is the Hello Kitty Petite Makeup bag, €29; centre is a MAC store-only mirrored key clip, so not available here (bah) and bottom is that cute  Brush Collection, €65, which contains, if I'm not mistaken, a covetable 187 brush in miniature. Aww!
Any criticisms? Yes, sad to say, I do have a couple. One is that eternal gripe, the price differential. The shadow quads are £30.34 in the UK, and a massive €48 here. Why?
Advertised
Second gripe, we're getting a bit short-changed with the products on offer - some are MAC store exclusives, and there's a whole other strand to this collection, Kitty Kouture, which is only on sale at Harrods. A shame, as it's got some gorgeous colours and packaging.
Buy at BT and BT2 stores from the first week of March, until stocks run out. Which will probably be by the second day of the first week of March, so get going if you want to bag a bit of HK for your collection!