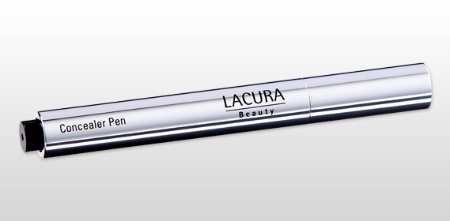 "Have you tried the Touche Eclat from Aldi?" asked my sister over the weekend, infringing on God only knows how many copyright laws and probably sending poor ould Yves spinning in his grave. She proceeded to gush like Gwenyth Paltrow at an awards do about the fantasticness of the stuff, telling me it was lovely and creamy, blended really well to cover dark circles and brighten the eye area, did a good job of covering post-spot squeeze redness, and there was divil a bit of fear of it caking or settling into wrinkles.
Sure you wouldn't feckin' know a fine line if it hopped up and bit you on the arse, I thought to myself, and demanded to see the wonder concealer for myself to put it through a real trial.
First impressions were good: a chunky, slick shiny silver pen with a built-in brush applicator at one end and a push button dispenser at the other, this is a good-looking concealer that you'd be quite happy to whip out in public. And as you may have gathered, it bears more than a passing resemblance to YSL's gilded cult product. The Lacura Beauty version is similarly light reflecting, and is formulated to reduce shadows and lines in the eye area as well as cover discolourations and uneven skin to promote a radiant complexion. The ingredients list sounds mighty impressive, listing a "Biophytex" complex that contains botanical yokies like tiger grass, calendula and horse chestnut extracts together with various B vitamins and yeast proteins to help keep the delicate eye area smooth and soft and prevent any dryness.
Advertised
So it looks good and sounds good, but is it actually any good? Well, it caused my panda circles to vamoose without caking into my not-so-fine lines and I especially liked that it worked to cover blemishes without drawing attention to them, a feat Yves'  Touche Eclat never managed. Available in two shades, I reckon Lacura's Concealer Pen is well worth the trip into Aldi and the weeny €4.99 price tag.