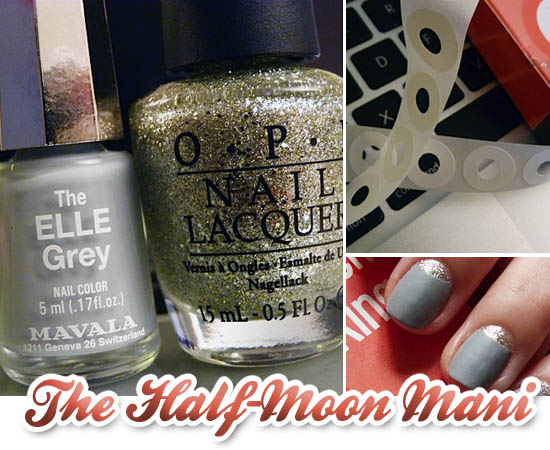 I've wanted to do a how to on this for ages, but have put it off until now because when I do half moon manicures I usually carefully paint them freehand to leave the eponymous semi-circle of secondary colour or bare nail at the cuticle exposed. See, that's tricky to do by yourself at home unless you're fairly steady of hand and sure you know me: I'm all about showing you the easiest way to DIY complicated looking nail art.
So I decided to give hole reinforcers one last go. (And yes, that is what they're actually called; they're designed to strengthen and repair punched holes. Stop laughing down the back!) Any time half moon manis are mentioned, these stationary cupboard staples are feted as THE must-use tool for creating perfect half moons but I've never really been able to get them to do a great job for me in the past.
The idea is that, after applying a coat of whatever colour you want the half moons to be,  you stick 'em on at the base of the nails to mask off the area before applying a contrasting colour to the rest of the nails. In theory it's an amazing trick but in practice, I found that it just didn't produce results on a par with working freehand: when the stickers weren't failing to stay stuck, they were pulling up the base colour on removal or disturbing the colour on top.
This time around, I tried a few different things that I hoped would help. I cut the hole reinforcers (sounds painful) so that they might be easier to work with and stick right down at the curve of my nail bed. I stuck them on my skin before using to reduce the tackiness and maybe stop them wrecking the base colour. And then I decided to apply a bit of interior wall painting know-how to the process and left flipping ages between coats to allow them to dry fully.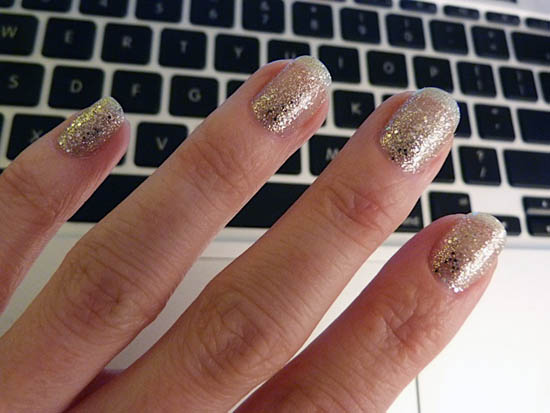 Step 1: Apply a base coat and the base colour (or just the former, if you're going for a properly retro look and a nude half moon.) I used OPI Bring On The Bling from last year's Burlesque collection.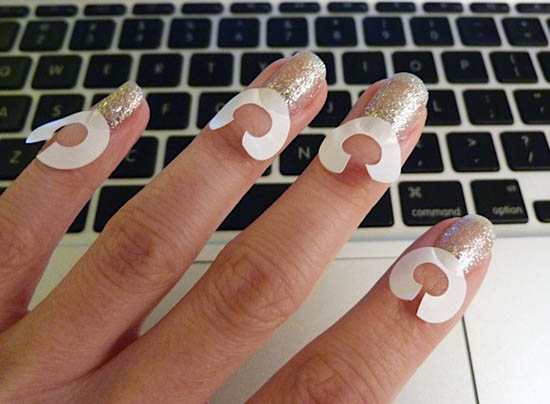 Advertised
Step 2: Wait at least half an hour before positioning the hole reinforcers. Press them down firmly all over to ensure they adhere fully and evenly; any lifting will reduce the chance of getting a nice clean line between the two colours.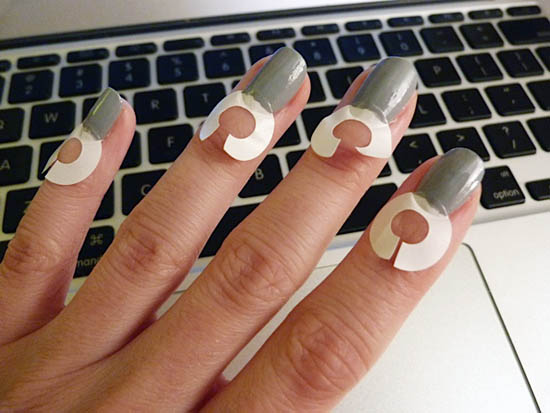 Step 3: Apply the main colour to the rest of the nail; I went with the Mavala Elle Grey that came free with an Elle mag a couple of months ago. Beginning each stroke on the sticker rather than the nail itself will prevent the polish pooling along the stickers edge. Leave a minimum of 15 minutes between coats and another 15 minutes before taking off the hole reinforcers.
(And yes, at this stage, I am mostly just trying to see how often I can use that term in this post.)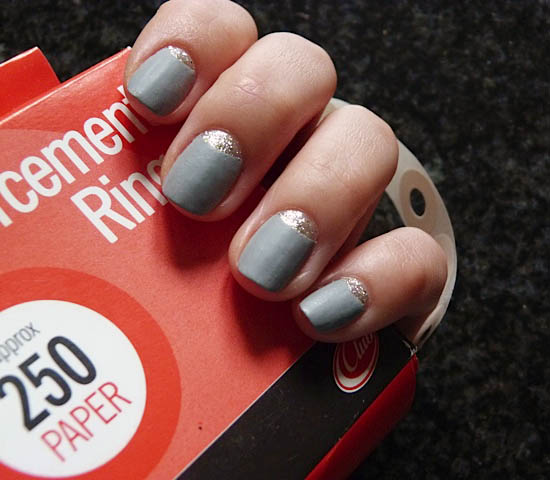 Step 4: Carefully peel off the hole reinforcers working from the outer edges towards the middle of the nail, and lash on a topcoat (I used Essence Matte Top Coat on the grey portion of the nail only.)
I think it worked out surprisingly well, actually, and leaving extra drying time and the other additional tricks seemed to eliminate the head-wrecking issues that hole reinforcers have caused for me in the past.
Advertised
What do you reckon?
Get Beaut.ie Delivered
Stay updated with Beaut.ie newsletters full of the latest happenings at Beaut.ie as well as great offers and things we think you might find interesting .