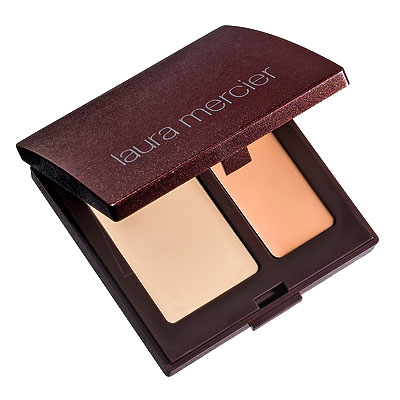 I had only intended to pop into Harvey Nichols in London for a spend-free mosey around the handbags and shoes ... but somehow I never made it past the cavernous beauty hall and eventually emerged almost £100 lighter.
Oops.
One of my purchases was Laura Mercier Secret Camouflage, something that I've been meaning to try for a really long time. It's a two shade affair with dual pans of cream concealer: one to match the skin's depth of colour and one to match its undertone, apparently. The instructions dictate using after foundation, blending the two shades together on the back of your hand using a concealer brush until you have a perfect match for your skin, and then applying with the brush.
Advertised
The colour match is the best I've found, thanks to the little bit of custom mixing jiggerypokery that Secret Camouflage affords, and discolouration and blemishes disappear beneath it as it's so densely pigmented and gives completely opaque coverage. It's hard to work with though, because both shades of concealer have the consistency of almost-set concrete and it takes quite a bit of elbow grease to make them malleable.
Another gripe is that it's so very drying: I found it was inclined to really accentuate the merest hint of dryness and transform it into a flaking mess. While Laura Mercier say Secret Camouflage can be used under the eyes if mixed with a hydrating eye cream, I'd be inclined to use a seperate, non-desertifying concealer for dark circles.
I'll continue to use it for the time being (eh, mostly because I'm loathe to admit that my spur-of-the-moment buy isn't awesome enough to justify the price tag), but that drying effect means I wouldn't repurchase in a blue fit.