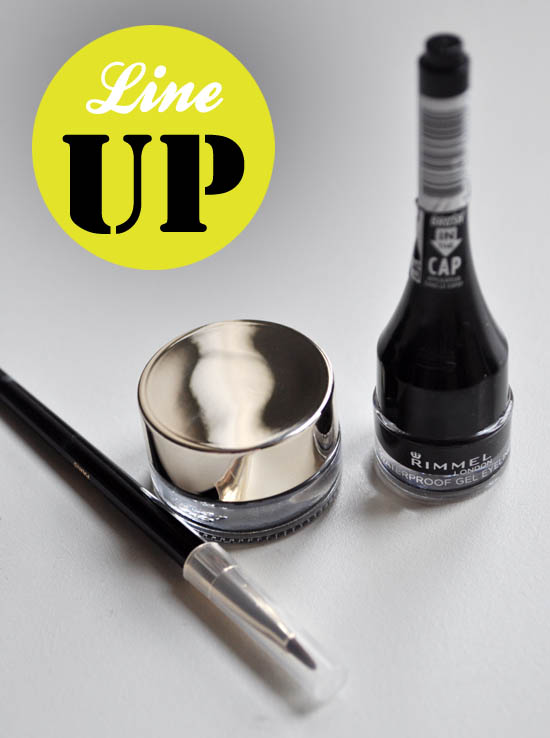 Couple of years ago, you couldn't find a gel liner for under about €25, and then all of a sudden, there were scads of 'em at affordable prices and for this we sang many hosannas and did much praise-based, er, praise.
And just in case offerings from Essence, Catrice and Maybelline haven't quite lined up for you, here are two newbies from L'Oreal Paris and Rimmel, both of which I've been checking out and finding to my liking.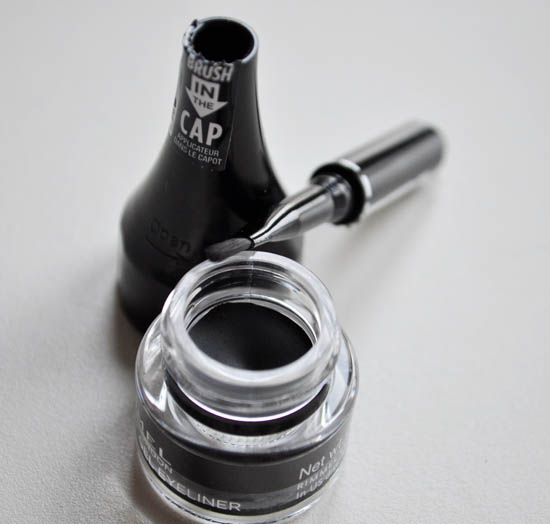 Rimmel Glam'Eyes Waterproof Gel Eyeliner will launch nationwide (it's likely to be at Boots now) in March in black, and will cost €7.95. I've gotten one to trial pre-launch and am impressed:  it's got absolutely brilliant packaging - the cute ink-pot style presentation is super-smart and it's even got a little brush hidden in the lid.  Now, before we go any further, there's something that has to be pointed out about this admittedly excellent liner - it is friggin' tiny. Miniscule. It's the smallest gel liner I've ever seen - you only get 2g for your almost eight quid.
And you know - that makes it so much more expensive than Catrice for example, for half the product, as Catrice knocks it out of the park with a 4g whopper at just €4.49. For some, because Rimmel is much easier to find, that's an acceptable tradeoff - and actually because it's waterproof it's much more stick-about as well.
That said, I really liked this. I thought the little brush would be rubbish but it's ok - it works. It's quite firm and applies the product quite nicely though it does cause a bit of 'balding' as it goes - nothing that can't be fixed by going over the line again.  If you don't have any other brushes you can make do with it, but if you do have better ones to hand you'll no doubt prefer to use them. I love how it tidily snaps back into place as well; it makes the whole package really transportable and mess-free.
Application and wear time on this is excellent - it's firm, creamy, very opaque and glides on with no dragging. Longevity is great with no transfer and smudging -  though be aware I have dry lids. I found it just stayed and stayed, so hopefully a good bet for the oily lidded too. Rimmel has a fairly ridiculous 25 hour claim on it which needless to say I didn't test - ah you're alright with your 25 hour wear products, thanks. But it definitely gave me eight-to-ten hours of rock-solid thick black line, with no crumbles, and I call that a result.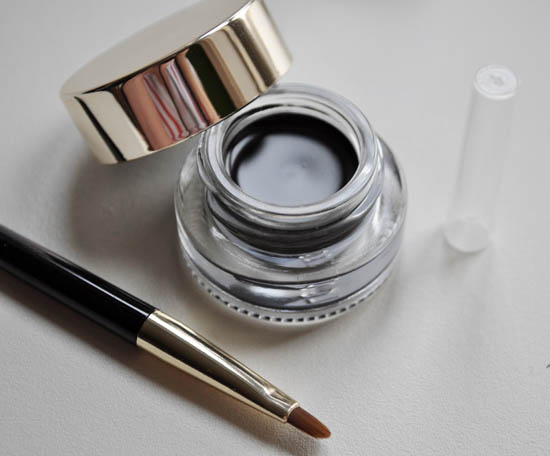 Advertised
L'Oreal Paris Superliner Gel Intenza Eyeliner, €14.99, is quite pricey for 2.8g I thought - you'd almost get a Mac one for that and it's a high end department store brand.  This is on counter now and comes in two shades, Pure Black and Golden Black.  You're looking at Pure Black above, which the brand sent me as a sample, but I'd actually already bought Golden Black myself, cos I is a sucker for a gel liner and I can't resist.
Golden Black is a little less harsh on the eye, having some very subtle gold shimmer, but there's not much in the shade difference to be honest. Again, this is a great product; it's creamy, deeply pigmented and very smooth. The included brush is really very good (I love the hard plastic cap) and helps with the ouch price, but I do think this is a bit too expensive in all honesty, especially considering it's only £8.99 in the UK. Sort out the conversion L'Oreal Paris, please.
Wear isn't quite as good as the Rimmel product, but it's only claiming TWENTY FOUR HOUR HOLD, so that must be why. Ahem.
In a glass pot with a gold metal lid, this is undeniably the more glam buy, and in fact it reminds me a lot of last year's YSL New Blacks creme liners, which were fabulous - so definitely a more affordable dupe for them.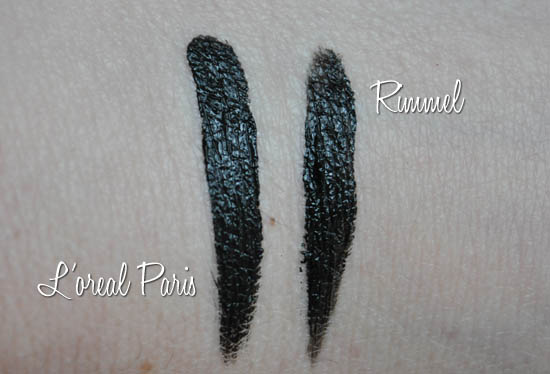 Swatches of L'Oreal Paris Superliner Gel Intenza Eyeliner in Pure Black and Rimmel Glam'Eyes Gel Liner in Black
All-in-all, while both are a little too expensive for what they are, ultimately they perform. Definitely worth checking out if you're a die-hard gel liner fan - plus, with those three-for-twos Boots is always running, I'm pretty sure there'll be bargains to be had, eh?
Advertised