 We were very excited when this little beauty arrived at Beaut HQ. When we see new eyeshadows we can't wait to play!
I see this palette as an eyeshadow palette with the bonus of a highlighter and sculpting colour. I thought it had a really beautiful selection of colours. I always look for a mix of matte and shimmer colours in an eyeshadow palette and this one has plenty of both. It has great blendability and really good colour pay off. The eyeshadows are buildable so you can build them up to your desired intensity.
If you are a make up lover you are going to love this palette.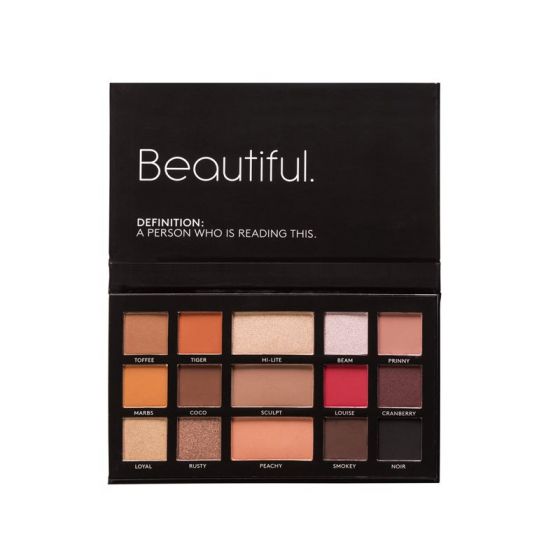 BPerfect LMD Master Palette €30
Colour selection
I really love the colour selection and as a makeup artist, this is a welcome addition to my kit. However, I wouldn't call it an essential palette. For me, an essential eyeshadow palette needs some core colours that you can use with every eye makeup look. This has some of those colours but lacks a soft transition colour and a matte base colour. That said, the colour assortment is really gorgeous. There are lots of warm orange and red tones as well as dusky pink and frosted, ice pink. Then there are darker shades of brown and plum for smoking out the edges of your eye makeup.
Advertised
The contour and highlighter
The contour and highlight are really effective. Again, they are suited to a more confident makeup artist. The contour has both a pink and grey undertone to it. You need to use it sparingly. It's the type of colour that sculpts your cheekbones rather than adding warmth and bronze to your skin. So I would use this in addition to a bronzer. Just a touch under the cheekbones and along the sides of the nose is really effective at sculpting your face.
The blusher is a gorgeous peach tone that will suit absolutely everybody. Whether you are pale or sallow, blond or brunette it will give you a gorgeous, subtle glow on your cheekbones. The highlighter is also a beautiful pink and gold shimmer that lifts your cheekbones and works really well as an eyeshadow too.

In this first look, I used a mixture of Beam and Busty on the lid and Cranberry and Smokey to smoke out the edges.I have used the High-lite on the cheekbones and on the inner corners of the eyes.
Advertised

This look is a more subtle colour combination and just shows how versatile the palette is. You can go from plums and pinks to warm golds and browns. I used Toffee underneath with Loyal and Marbs on the lid. I mixed Cocoa and Smokey in the crease.