 When we heard that The Kensington hotel in London has revamped its premises, we were keen to check out its fancy facelift. Not only is London one of our favourite city break destinations, and the home of style, but The Kensington is also part of the renowned Doyle Collection which includes such gems as The Westbury in Dublin and The Marylebone in London.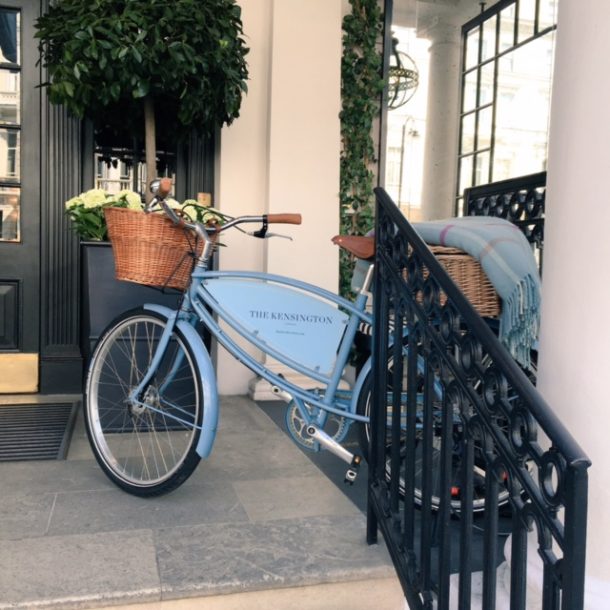 Opting to fly into Heathrow gives you the added advantage of being able to take the tube directly to South Kensington station, which is a mere three minute stroll from the hotel. And being able to utilise the tube means saving an absolute fortune on taxis or the Express trains. I bought an Oyster travel card and not only was my return journey to Heathrow covered for €20., but also my travel for two days around the city.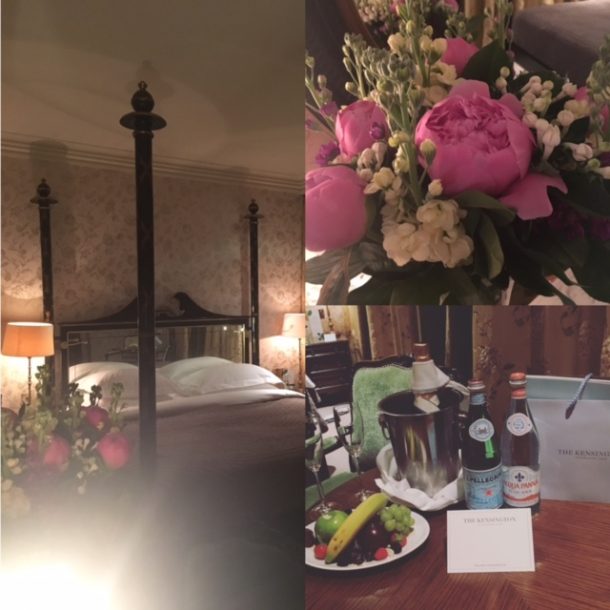 Kensington is an ideal base for a London city break for those who are looking for a little more chic and a little less Piccadilly Circus from their weekend.  There is an abundance of great eateries as well as architectural eye candy on every corner.  It's very easy to imagine yourself living there (if you have a spare couple of million lying around that is).  In the absence of that, you can check into The Kensington for a few nights and play make believe.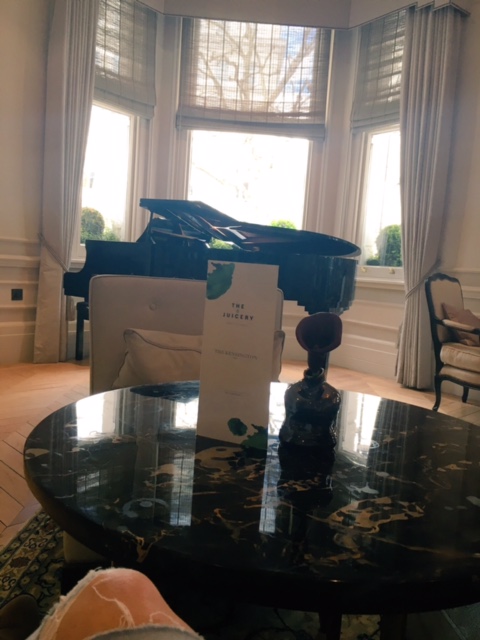 The hotel is situated on a wide tree lined avenue, and upon arrival you are greeted by the view of a beautiful powder blue bicycle with basket, propped up near the door, almost inviting you to hop on and go exploring with a picnic blanket, baguette and bottle of vino in tow.  Should the hotel bicycles not be available, there is a very convenient rank of London City Bikes right outside the hotel instead.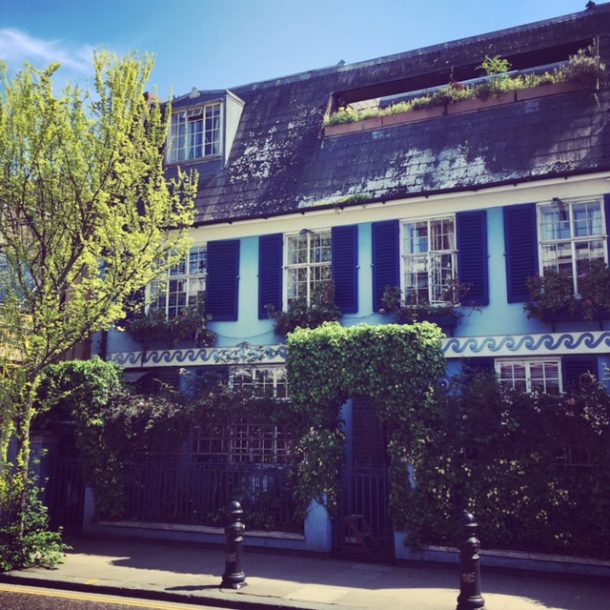 Without doubt, the welcome that I received, and the staffs attitude throughout my stay, was the warmest and most professional that I have ever experienced in London.  You can absolutely see the 'Irish charm' shining through (despite the fact that only a handful of staff are Irish).  It spoke volumes to me about a company that truly values it's customers.  As an aside, it was also a treat to be able to order the Irish newspapers each morning rather than just the British ones (it's the little things that make the difference).
Check in was a breeze and the warm facecloth and chilled bottle of water was welcome post flight.  They also made a room available for me immediately to change as my own room was still being cleaned as I had arrived first thing in the morning.  The decor is beautiful with muted tones and everything subtly hints at elegance and comfort.
Advertised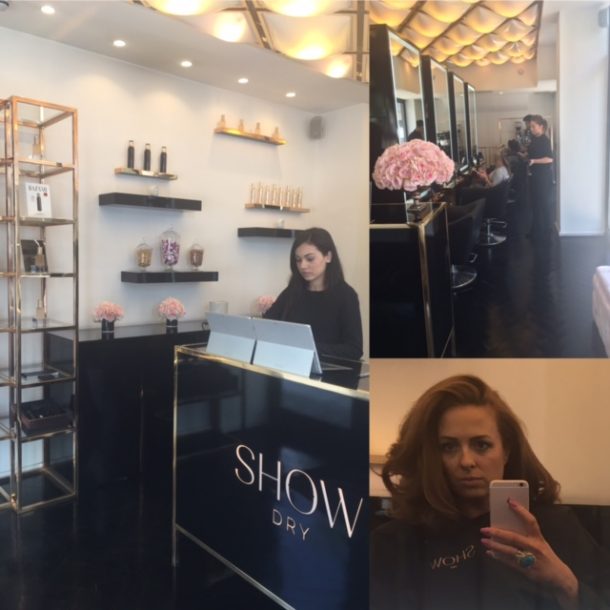 My days were spent exploring London with the Tube being my chosen mode of transport.  Having the station so close to the hotel made it a no brainer.  My first port of call was Notting Hill, an absolute dream to wander around.  For another trip I might recommend Carnaby St or the Electric Diner and Cinema, this trip was all about 'chic' and so instead I headed directly to Granger & Co. for brunch.  It was a vibrant, bright and busy cafe on the corner of the main street.  And by the size of the queue of beautiful people waiting outside for a table for brunch, I would say that it's very popular.  The food was absolutely delicious and I'd highly recommend it.
Conveniently, the flagship salon of the Tamara Eccleston empire SHOW, was next door.  I treated myself to a wonderful blow dry which was a real treat in those luxury environs, and was ready to face the rest of the weekend.  After some retail therapy in Notting Hill, which had all of my favourite boutiques from Masion Scotch to Diptyque, it was time to head back to Kensington for a trip around the famous V&A museum which was in walking distance of the hotel.  I was very tempted to indulge in the beautiful afternoon tea that I spied en route back to my room but I had a dinner date that evening and so regretfully had to pass it by.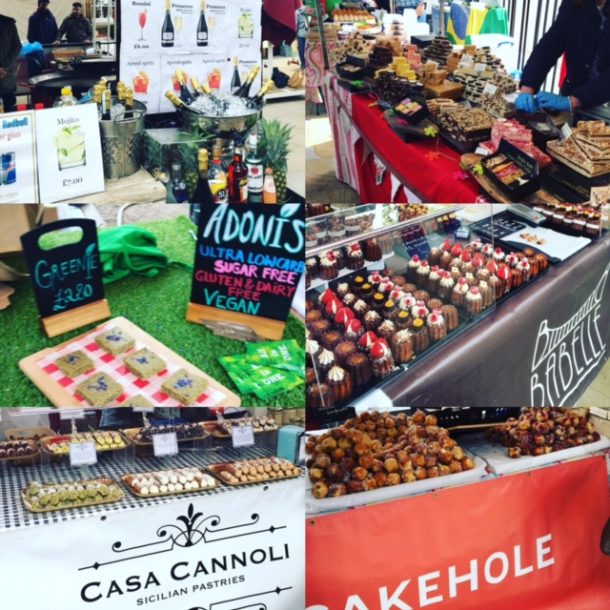 The following day was blur of more eating, drinking and shopping but the highlights worth mentioning were the food market on Sloane Square, which was small enough to be called intimate but with such an array of choice and quality that your inner foodie will weep tears of joy.  That evening, I met up with friends in the new look K Bar at the hotel.  It had an opulent style that harked back to the decadence that went on behind closed doors during the prohibition era.  And their cocktails were divine. Dinner was in the new Townhouse Restaurant at the hotel and we were skilfully guided through a wonderful meal.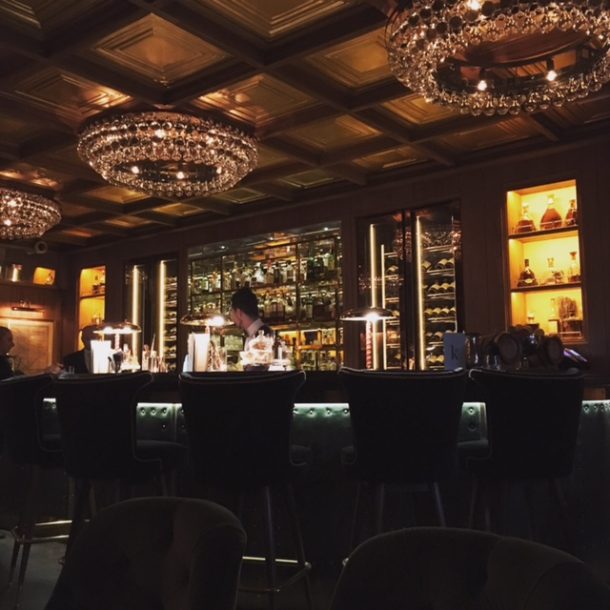 My four poster bed was calling me after all of that and their wonderfully comfy beds lulled me to sleep.  After a quick work out in their well equipped gym the next morning, followed by a superb breakfast of smashed avocado and chilli on sourdough toast, it was time to hop back on the tube for a quick and painless journey home.
Will I be back?  Just try and stop me!
Have you any London tips to share or where is your city break location of choice?
Advertised
*Jessica was a guest of The Kensington, London