 Kathryn Thomas is a lovely lady. So lovely that some TV viewers object that Operation Transformation contestants have to stand beside her while they are deliberately pasty and un made-up and in their smalls while she is in her glory.
She can't help being tall and slim and beautiful! But like every woman in the public eye, Kathryn has a little help in the style and beauty department. She can't help that either!  We'd take a glam team if we were offered one and so would you.
Anyway, Ms. Thomas rocked up to the Fifty Shades of Grey premiere in Dublin last night looking utterly fabulous. Her chic black ensemble, capped by incredible zip-up booties was impeccable, her red carpet matching mani/pedi were entirely suitable for the affair and her hair has the perfect almost messy bun.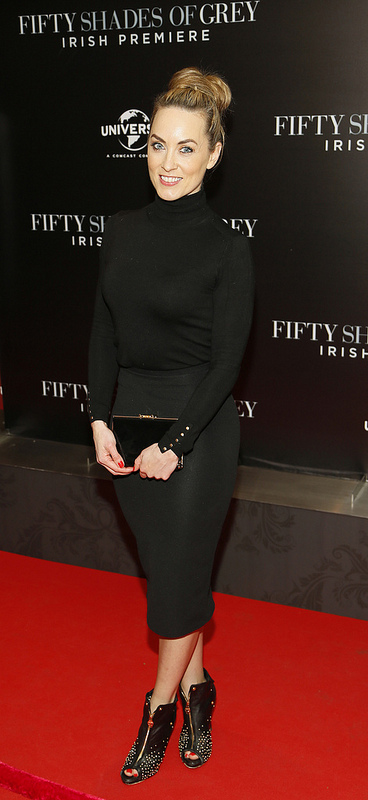 Kathryn's makeup was what pulled her entire look together. We have serious brow envy at the moment - her's are gorgeously groomed - and that dewy complexion is what we aspire too. Except when we try we end up with chip-pan face. What's your secret Kathryn?
Advertised
Whoever colour matched Kathryn's lipstick did and incredible job because it is seriously bringing out the colour of her eyes. Believe it or not, despite usually having warm undertones that peachy pink is a lovely shade for pale skinned, blue-eyed gals.
Kathryn's eye makeup is simple and natural. The subtle nude look is a trend for spring as it looks so fresh and bright. In fact, Kathryn's entire makeup look defines Spring Summer 15. Beauties, take note. This is your template for the season!
What do you think of this look? Do you agree that Kathryn look a million bucks? Will you be trying her look out for style any time soon?