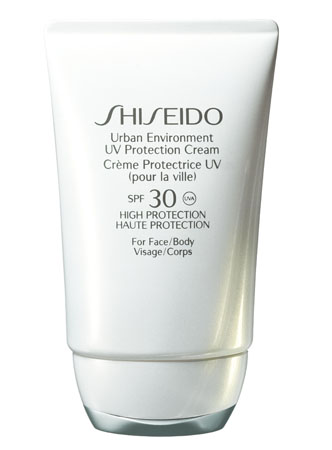 A sunscreen review seemed more timely when I first started thinking about this post a few weeks back, with the sun regularly splitting the stones. We've seen a bit less of the big yellow ball in the sky for the last while, but as we all know, damaging UV rays do still manage to make it through the clouds on an overcast day and so I've continued to wear Shiseido Urban Environment UV Protection Cream, €33, on a daily basis.
The "Urban Environment" part of the name is the first clue that this is targeted at those of us looking for a sunscreen product to wear on a daily basis, rather than on trips to the beach. Along with broad spectrum UV protection, it also contains antioxidant plant extracts to protect against air pollution and an amino acid complex to help moisturise the skin. As I'm always on the hunt for a daily sunscreen that not only protects my skin, but also feels comfortable to wear on a regular basis, I was very interested to try it out to see if it would fit the bill.
I've been using Urban Environment in the SPF30 formulation (there's also an SPF50) daily for about three weeks now and I must say that I really like it. It's a light cream that absorbs easily, keeps my dry skin nicely hydrated and most importantly of all, doesn't have that mask-like feel that many sunscreens have. It makes a lovely base for makeup but doesn't have that horribly shiny finish that makes wearing makeup over it a necessity.
Advertised
It removes easily with my normal cleanser and I haven't had so much as a clogged pore when wearing it - the more hardcore sunscreens I've worn in the past have often resulted in breakouts when worn for longer periods. I'm happy with the protection levels it offers for daily wear and most of all with the fact that wearing it isn't a chore.
Urban Environment is in a higher price bracket than pharmacy-brand sunscreens, but for a daily care product which I'm happy to use and which suits my skin so well, I'm willing to pay the price.