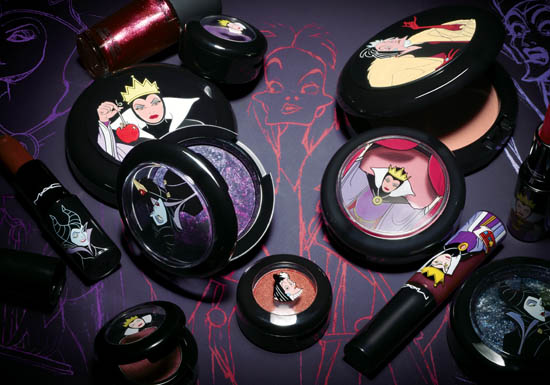 Mac's eagerly-anticipated Venomous Villains collection is on counter on Thursday 7th - we took a sneak peek at it a few months ago - and is another of their cartoon collaborations, this time with Disney. Four evil baddies are paid homage to: 101 Dalmations' Cruella de Vil, the Evil Queen from Snow White, Sleeping Beauty's Maleficent and Dr Facilier from The Princess and the Frog are given the Mac treatment.
I have to say, fun and all as it is, this collection is a just a bit more of the same. Packaging-wise, it's very like Hello Kitty and while there is a lot of product to choose from, meaning you're more than likely bound to find something you like; well, I can't help feeling a bit jaded by all these seemingly endless kitschy collaborations the brand is doing.  Still, at least there's no controversy raging about this particular line-up, eh?
I was sent a selection of products across all four baddies. For shots and swatches, just keep reading!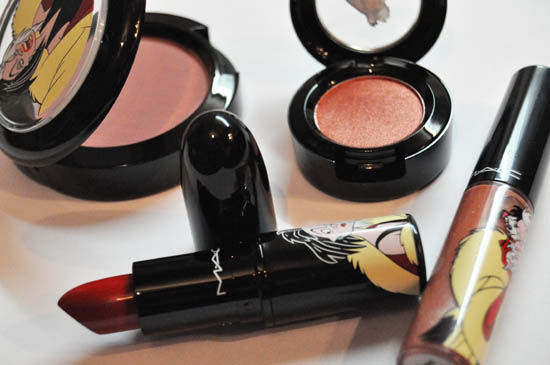 From Cruella De Vil's lineup I got Powder Blush in Darkly My Dear, Eyeshadow in De-Vil, Lipglass in Devilishly Stylish and Amplified Creme Lipstick in Heartless. Of the lot, I'll wear the lipstick - the rest of these products are too warm for my skintone so beware, milk-bottle-alike ladies.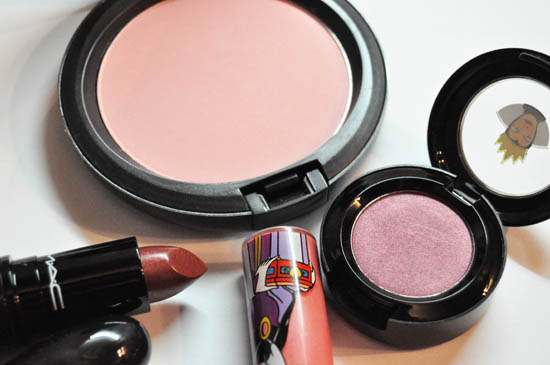 From the Evil Queen collection Mac sent me Beauty Powder in Oh So Fair, Eyeshadow in Vainglorious, Lipglass in Strange Potion and Lustre Lipstick in Sinister. From this quad, the gloss is my winner - I love pinky corals and this is creamy and shot through with very fine shimmer. The Beauty Powder's a winner for my skintone too, I reckon.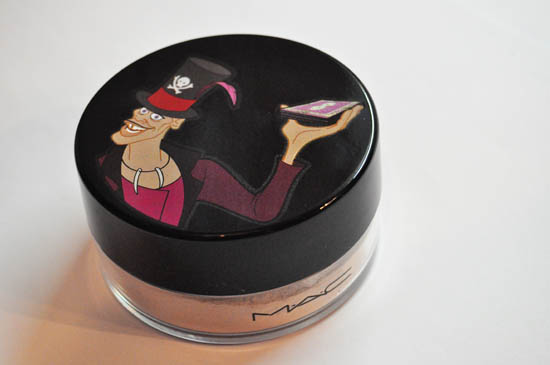 The Dr Facilier products are some of the most interesting in the whole collection actually, and this is the most innovative of all. I'm pretty sure Magically Cool Liquid Powder in Truth & Light is borrowing tech from the now-defunct Prescriptives. That brand had a powder called Magic* which gave a cooling sensation when applied to the skin. It achieved that because it had a high water concentration so it was a good pick for dry complexions - I'd imagine the same applies here.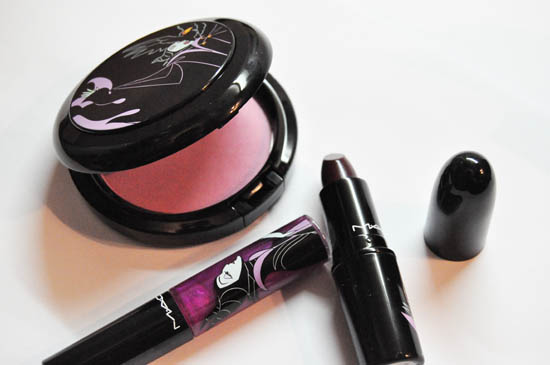 Maleficent's products are the nicest-looking of the lot, but that's not really reflected by the samples I have. You can see her full lineup below and she's also got gorgeous dramatic mineralized baked shadow quads and iridescent nail polishes. I have the following to test: Beauty Powder in Briar Rose (great name), Amplified Creme Lipstick in Dark Deed and Lipglass in Revenge is Sweet.
Out of the stuff I've been sent I've swatched a selection.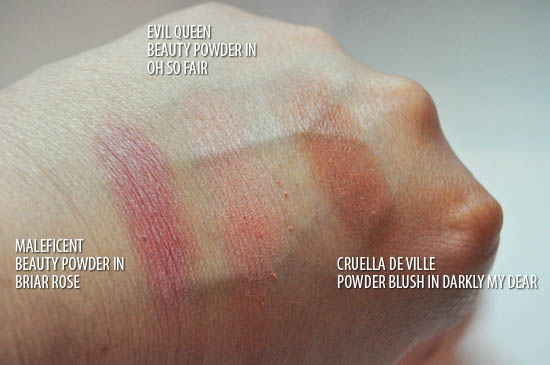 Darkly My Dear is, as a blusher, is not remotely right for me - it looks dirty on my skin. Beauty Powder in Oh So Far is great. Briar Rose is quite deep but do note these are heavily swatched and are quite sheer in normal use, so don't deliver a huge colour payoff. I'd use Oh So Fair to set liquid foundation but would probably keep Briar Rose to use as a light, buildable blush.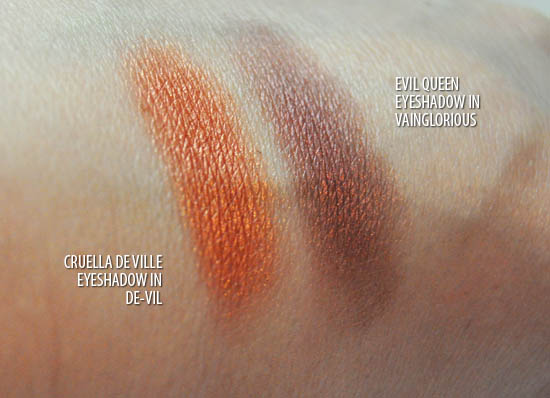 Neither of these shadows really grab me - De-Vil is far too warm and Vainglorious is nice - in the pan it's an aubergine with shimmer but doesn't really look at all special on the hand.
Advertised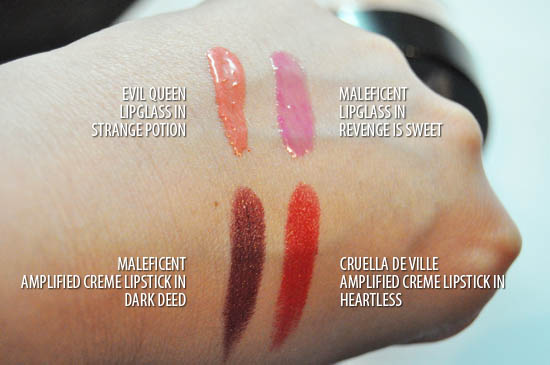 I'm liking this lot a LOT! The two Lipglasses are lovely, particularly surprising is Revenge is Sweet which looks scary in the tube but a girly lilac-pink on skin. Really nice.  Both Lipsticks are keepers for me as well.
So, lets get down to brass tacks. What are the pros and cons of Mac's Venomous Villains collection?
Pros: it's a fun collection based on much-loved Disney characters, there's lots of choice for everyone, the individual product names are imaginative and there are some nice new innovations and bits and bobs
Cons: as I said above, it's all a bit samey and not everyone will be wowed by the packaging, some products are too warm for a cool skintone (the reverse is also true) and as a result most of the Cruella collection is out. Price is always a factor with Mac, which has ridiculous margins in Ireland.  For example, a Beauty Powder is £20.50 in the UK, yet €29 here.
Overall: a lot to like but not perfect. Oh, a lot like life in general, so!
Here's the entire product round-up with pix and prices, and of course, 99% of it is limited as indicated by the asterisk (*), so if you want anything, hurry.
CRUELLA DE VIL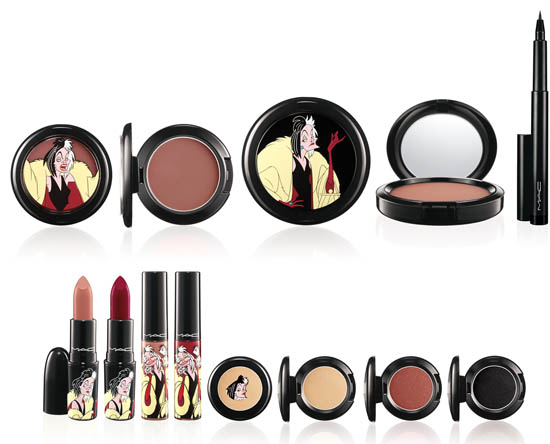 Eye Shadow*

Sweet Joy Frosted creamy pale gold (Frost)
De-Vil Rich copper (Veluxe pearl)
Carbon Intense black (Matte), €15.50

Lipstick*

Innocence, Beware! Light yellow pink (Cremesheen)
Heartless Cherry red (Amplified), €18.00

Lipglass*

Wicked Ways Light nude with gold pearl
Devilishly Stylish Deep fuchsia with pink pearl, €18.00

Powder Blush*

Darkly My Dear Dirty Brown Plum (Matte), €23.00

Beauty Powder*

Her Own Devices Cool nude,  €29.00

Penultimate Eye Liner

Rapidblack True black, €19.00
EVIL QUEEN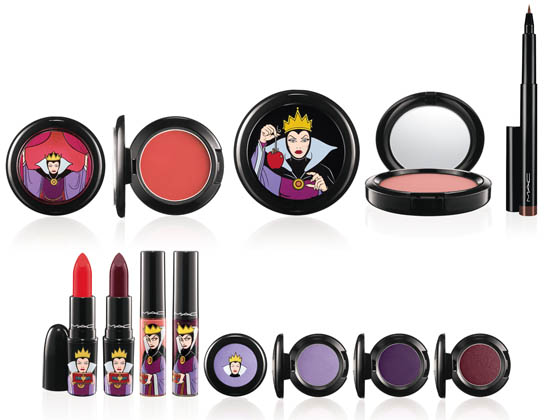 Eye Shadow*

Her Alter Image Light violet (Veluxe pearl)
Vainglorious Bronze burgundy (Frost)
Vile Violet Deep dirty blue purple (Matte), €15.50

Lipstick*

Toxic Tale Bright coral (Satin)
Sinister Soft brown plum (Lustre), €18.00

Lipglass*

Strange Potion Soft coral pink
Hot House Deep raspberry with pink pearl, €18.00

Powder Blush*

Bite of an Apple Soft coral pink (Matte), €23.00

Beauty Powder*

Oh So Fair Clean pink with gold pearl, €29.00

Penultimate Brow Marker, €19.00
MALEFICENT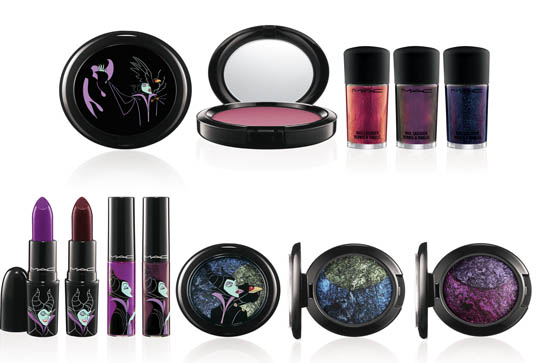 Mineralize Eye Shadow (DUO)*

My Dark Magic Deep pink with pink pearl/ Deep plum with purple pearl
She Who Dares Deep navy with blue pearl/ Deep forest green with lime green pearl, €22.00

Lipstick*

Violetta Bright clean violet purple (Amplified)
Dark Deed Burgundy plum (Amplified), €18.00

Lipglass*

Revenge Is Sweet Light yellow purple
Wrong Spell Deep plum with pink purple, €18.00

Beauty Powder*

Briar Rose Soft violet pink with pearl, €29.00

Nail Lacquer*

Bad Fairy Red with red multi-changing pearl
Formidable! Teal green with pink multi-changing pearl
Mean & Green Purple with teal multi-changing pearl, €12.50
DR.FACILIER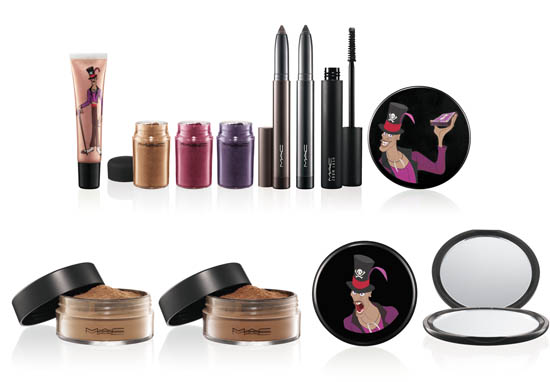 Advertised
M·A·C Magically Cool Liquid Powder*

Truth & Light Sheer shimmer that reflects silver and pink
Cajun Sheer bronze shimmer that reflects gold, €32.00

Lipgelee*

Resort Life Off white with pink pearl, €18.00

Greasepaint Stick*

Slick Black True carbon black
French Quarter Dirty black green with multi-colour pearl, €19.00

Pigment*

Melon Soft bright golden peach (Frost)
Brash & Bold Bright magenta (Frost)
Push the Edge Deep bright purple with pearl (Frost), €24.50

Mascara*

Zoom Fast Black Lash Deepest black, €16.50

M·A·C I'm So Vain Mirror*

Compact inspired by collaboration; interior contains standard mirror on one side and magnifying mirror on alternate side, €15.00
(I know I'm misspelled Cruella's last name on the swatch shots - sorry, too tired to change 'em!)