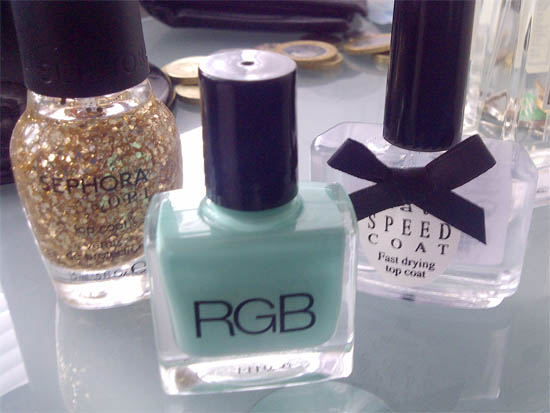 Given a mere 40 minutes to pack for a few days in London it seemed sensible to run around the flat like a headless chicken just throwing things at my case, hoping that they'd all join up when I landed into cohesive outfits of put-together style - yet with a quirky twist to each, y'unnerstan' - that would take me from afternoon shopping to evening engagements with ease, panache and a dash of devil may care chic.
When I arrived, what greeted me was a tangle of tights, not enough pants, eight skirts and one leopard print shoe.
One thing I did sort of manage to get right was nails. I'm currently mad about that RGB minty nail polish I showed you a couple of weeks ago and it looks like I'm never ever getting over glitter either. Conveniently - and pretty much unplanned and unbeknownenst to myself - I'd managed in my frenzy to throw in an Opi for Sephora Glitter called Only Gold For Me, the aforementioned Mint and Ciate Speed Coat fast drying topcoat which I'm liking a lot at the mo.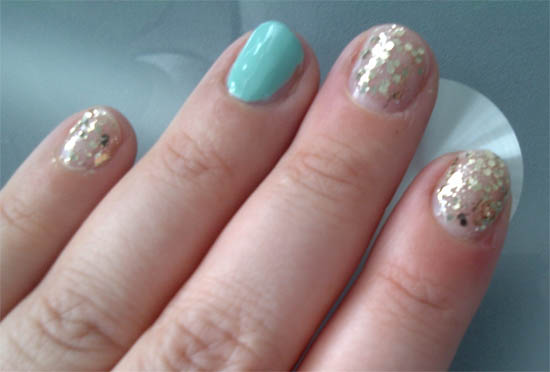 Advertised
I didn't take my proper camera with me so you'll have to suffer my wobbly Blackberry shots, but this is how the result ended up. My basic golden mani with a mint accent was inspired by Beaut.ie's reigning queen of all things nails, Lynnie, who did the reverse over on her own blog recently.  This was a super-cinch to do, even though the gold takes about six coats to get up to proper bling status, but you don't have to mind your manners and you can just lash it on because it's in a clear base.
The ultimate lazy cow do with statement appeal, really. And it looked particularly nice as I limped around England's capital in my mismatched shoes.*
*only kidding. Or am I?