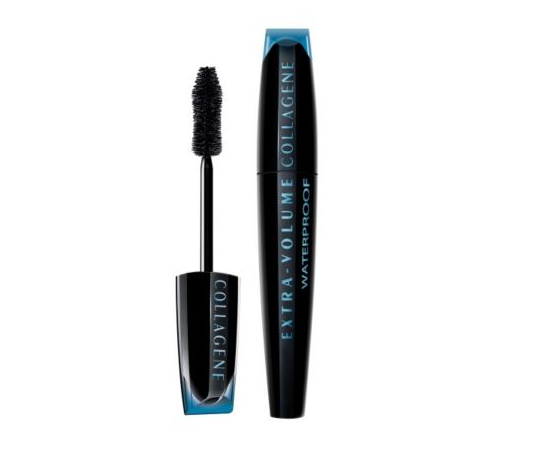 Yesterday we checked out a lash-enhancer from No7 and today I'm practically running out of breath saying the name of L'Oreal Paris' newest mascara foray: Extra-Volume Collagene Waterproof Mascara. But that's the only thing I'm breathless about.
It's the new, tear- and weather-resistant version of Extra-Volume Collagene, and it features a massive, fat brush, which will apparently deliver instantly plumped-up lashes. Cost?  €14.99, so pretty spendy for a pharmacy brand, I reckon.
The brush is twice as big as a typical L'Oreal Paris volumising brush, so does it deliver 2 x fat lashes? No. It delivers 2 x messy looking eyelids. The brush is so big it's impossible to zig-zag from the roots without depositing loads of product on to your eyelids, runing your lovely blended shadow. Gaah.  I kept having to cover it up by adding thick black liner, which is not what you want of a morning when you're in a hurry to get out of the house.
Advertised
I wanted to like this; I really did. I can be very down on L'Oreal Paris/Maybelline mascaras and few of them impress me. So I did give this a fair trial for about a week, and even ignoring the splatter-factor, it doesn't live up to its name. Extra-Volume Collagene just really isn't all that volumising, to be honest.
The one thing I really liked about it was the length of the wand - it's nice  and short, so you can get in close to a mirror and really see what you're doing - a bit of a failing with longer wands, as you're inclined to bump them off the mirror and thus, rebound them right into your eye. Ow. That's not an issue with this, which is great.
The other thing that's good about it is that it stays put and doesn't shatter down your face after a couple of hours. But those two benefits are not enough to make me add this to my kit - there are plenty of far superior products out there that do both of those  fairly basic things, and far more deadly ones beside.