 We love a good eye-liner round these parts, you know that and we know that. We've been perfecting our cat-eye flick for years (click here for Laura's essential guide on how to) or smearing our whole eye-lid and rubbing it with our fists with the stuff if it takes our fancy - for the just out of bed look, you know?
Needless to say, when a new range comes out we're delira and you better not try to stop us from trying them out! Max Factor's Excess Intensity Longwear eyeliners are already on the market in shades of black, gold, silver, charcoal, green and aqua but in January, three new shades will become available - and we got our hands on them!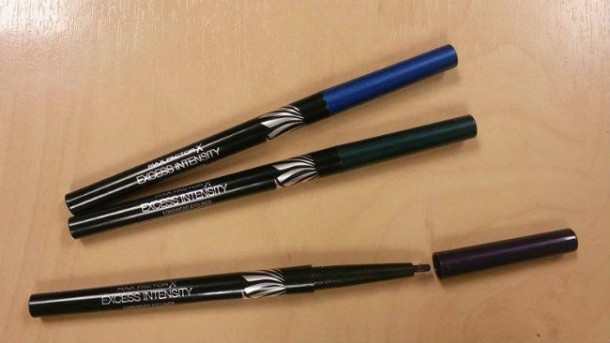 The fetching new shades come in purple, electric blue and a forest green and like their older cousins, they are of the soft crayon variety. They come in a self-sharpening mechanical pencil that you twist once or twice to get the right amount of crayon without it snapping off painfully on your eyeball.
I tried the purple shade because it's the closest  to my beloved darkest black and it really does glide on easily. Apparently the Excess Intensity pencils contain a waterproof film that helps the colour stay put on your skin and stay put for a good long time and I will concur that the colour initially goes on strong and after a few hours it still looks like it's going nowhere. It did stain the crease of my eye however, so blot it or powder it before looking up.
Advertised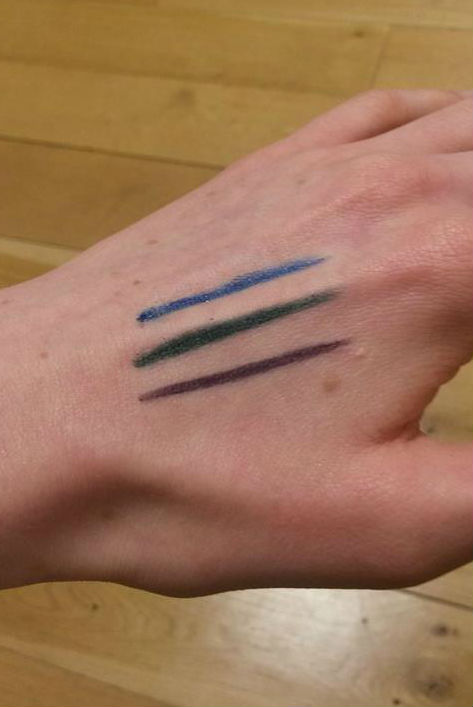 We never thought (or hoped) that it would happen but blue eye make-up is coming back with a vengeance so this Max Factor eyeliner has come just in time. The forest green is a gorgeous shade and would look lovely on its own for a something-a-bit-different daytime look. And I like the purple. It's not garish at all and like the green it can be worn during the day and it would really funk up a classic smoky eye at night.
An Excess Intensity Longwear Eyeliner costs an affordable €8.99. It's easy to apply, the pigment is strong and it lasts so we say it's worth the price.
Are you a Max Factor fan? Have you tried the Excess Intensity eyeliners in the past? Do you dare to line your eyes with colours more daring than black, grey or brown? Share with us in the comments!