 Mememe have recently brought their brand back to life and have made Mememe cosmetics available all over Ireland. Pitching their products as affordable luxury cosmetics, Mememe have recently relaunched their entire line of products.
So naturally, we had to have a good dig about to see what's what.
We had a gander at four products for you - Blush Me Blush Box, Luxury Long-Wear Lip Cream, Goddess Rocks Luxury Bronzing Rocks and their Flawless Tinted Moisturiser.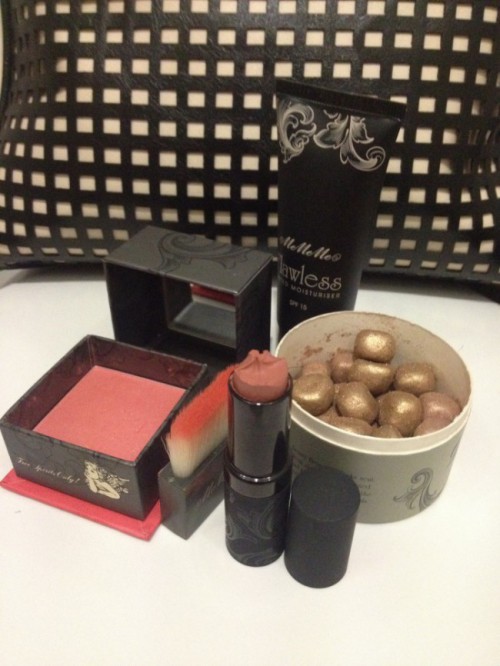 Blush Me Blush Box (€10.99)
In a way, this product makes me a little sad. The packaging is blatantly modelled after Benefit blushes. Right down to the little brush you'll find inside. However, I really like this product, which is why I think it should have it's own packaging. This isn't a Benefit blush, but it is very nice in its own right. The deep pink shade - Rouge - would make a nice, understated dupe for Nars Orgasm.
Instead of the obvious gold glitter contained in orgasm, this blush is shot through with a superfine silvery glitter which is so subtle that it really only creates a softly dewy look on the skin. If you applied a lot, it would create an almost wet look in direct sunlight. It's very beautiful.
Goddess Rocks Luxury Bronzing Rocks (€15.50)
I'm generally not a fan of loose 'bronzing balls' (careful...). They tend to be messy, dusty, and prone to falling out of the tub and getting smushed into carpets. This one is slightly better in that the bronzing nuggets are larger so they are easier  to sweep a brush across without sending them flying out of the tub.
But I still don't particularly like them. Maybe it's a matter of taste - what I see as a disadvantage, someone else might love. But this bronzer is too pigmented for me. It is literally gold. You could go full-on Halloween Egyptian with this stuff.
On Mediterranean or black skin, this product would look really beautiful. But if we pale lassies want to attempt applying this, we'd best ensure that a serious tan is present. This just won't work on pale skin, and it is a bit dusty for my liking.
Advertised
Luxury Long-Wear Lip Cream (€10.50)
Again, I'm very pleasantly surprised. These lipsticks are so jammed full of Shea Butter and emollients that you should apply them with fingers or a lip brush, or risk breaking the bullet.
You would think the fact that they are so moisturising would mean that they compromise on opacity. But nope. The shade that I've swatched, Persian Pink, is a beautifully understated brown-based pink. You can see how thickly formulated and richly pigmented it is from the swatch photo. I genuinely impressed by this lipstick - it feels lovely  to wear.
Flawless Tinted Moisturiser (€12.99)
Another pleasant surprise, this tinted moisturiser has good coverage and a dewy, glowy. The one drawback is that it has an old fashioned ' foundation smell', the one from your mum's makeup bag in the early nineties.
It also comes in just four shades, none of which are suitable for the lighter or darker skinned among us. That said, if you can find a shade match and have combination or dry skin, this is a nice product.
Advertised
What do you think? Have you tried any products from Mememe? Will you be giving this brand a go? Give us your view in the comments.