 I must confess that matte foundations aren't really to my taste. I prefer them on oilier-skinned folks after a few hours' wear when the skin has restored a little bit of glow to them. Matte finishes can be very hard to wear on the skin.
If you're even a little bit dry or dehydrated, they'll cling like nobodies' business, sit in fine (and not so fine) lines, and can often congeal throughout the day if you're in a warm or heated environment. By congeal, I mean that horrid effect you get when you look in the mirror and see that you have clumpy patches of foundation building up in areas of the face; often around the upper lip and between the brows where you may have more natural oil being released by the skin. 
Matte finishes can look great, but I've always found them to be best suited to younger skins which are oily, but not very oily. Very oily skin will cause the foundation to slip just as dry skin will cause it to sit. Often touted as the obvious foundation choice for certain times of year and skin types, I think it's far trickier than most of us have been led to believe.

A mattifying primer can look great under a dewier foundation. It will regulate shine just enough to help grip your makeup in place, and will look more natural than a flat matte finish.
The Infallible Mattifying Base from L'Oréal (€11.99) is a nice option. It's very silicone-heavy, and feels slippery yet absorbent. If your skin doesn't like silicone, then this isn't the product for you. However, makeup does glide over it snugly and the matte finish lasts very nicely.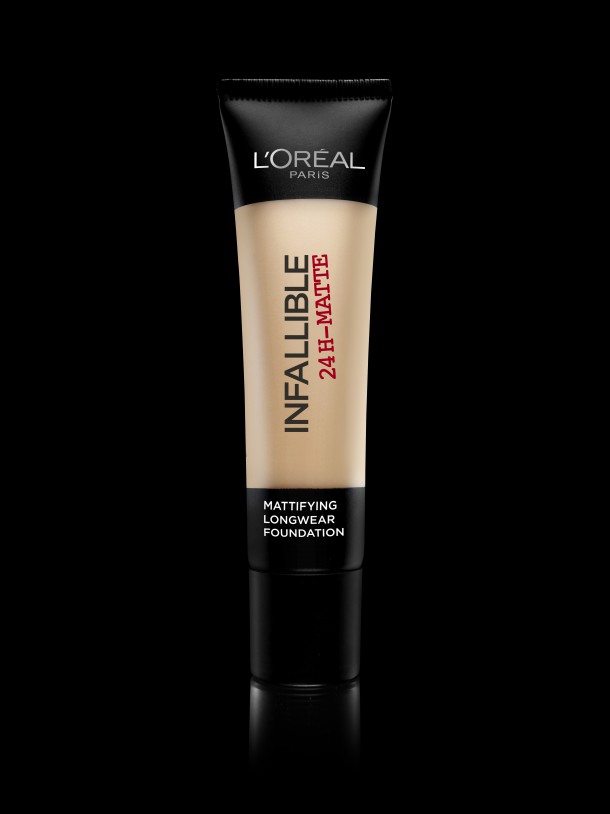 Advertised
The accompanying foundation - Infallible Matte 24HR Foundation (€11.99) - is a long wear offering which truly gives a matte finish and great coverage. If you like a flatter matte finish, then this is the product for you. It is incredibly oil-absorbing and dries down to a traditional matte.
If your skin is dry, this will highlight blemishes and sit in flaky patches unless you use a primer. However, it makes up for that in its coverage and lasting power. Frankly, I would never wear a foundation for twenty-four hours. The skin needs to breathe and nothing should last that long, but this lasts very impressively and the coverage is brilliant.
It's best applied in thin layers. Leave each layer to dry down before adding another one, and you'll have any discolouration covered in no time! Just avoid this at times of dryness, because it can be a touch unflattering.
Unfortunately, I couldn't get my hands on my shade, so I can't show this to you on the face. Here's a swatch for you!
Advertised
Are you a matte finish person, or do you find it impossible to wear? To the comments!