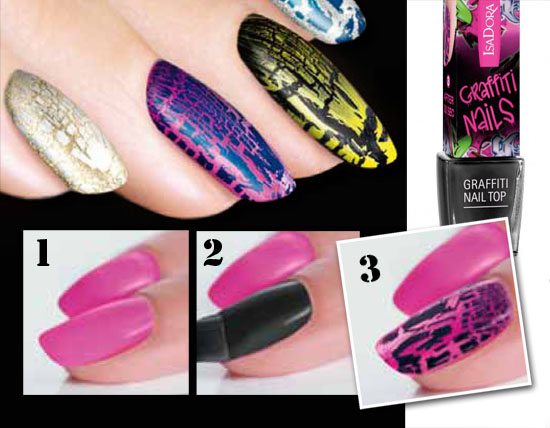 Scandi beauty bloggers are going CRAZY for this stuff and my mouth dropped in amazement when I saw it too. It's Isadora's Graffiti Nails collection and it looks BONKERS. But in a very good way, natch.
Apply one of five differently coloured topcoats over your mani and then wait a few seconds - it begins to contract and crack, leaving you with a nail art-effect finish that doesn't look like it was achieved by a mere swish of a polish brush. Six shades are available (black, white, blue, yellow, pink and green), giving you tons of possibilities for making fab contrasts.
Not convinced? Watch the video below using the black version over a blue base. Swit swoo! Us Irishers will find the products in some Debenhams and pharmacies as well as Shaws and McCauleys branches from the end of September, and they'll cost a very affordable  €7.50 each.
Advertised
Waddya think? Buy or pass? Me? I'm getting the lot.