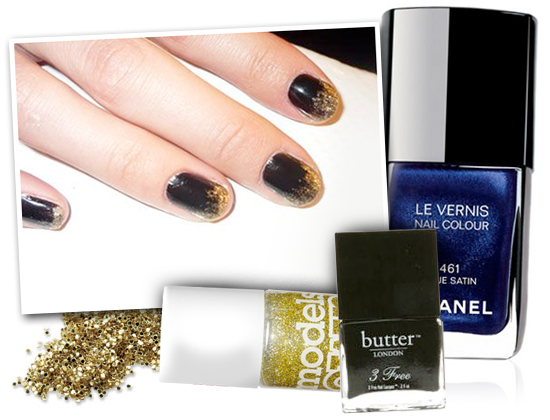 You ladies weren't one bit impressed with Nonie Creme's New York Fashion Week finger bands, created by the nail maestro for Vena Cava, but I have a sneaking suspicion that you'll find more to like about her work for the Yigal Azrouel show.
Nonie tipped a Butter London Union Black Jack black paint job with the brand's gold glitter West End Wonderland to create a look that's luxe but super-cool and reminds me a lot of a twinkling skyline at night - and it's dead easy to replicate at home.
Start with a base coat and two thin coats of black nail polish. (Alternatively you could use navy: I've tried this with Chanel Blue Satin and it looks goood.)
For the tips, use a gold glitter suspended in a clear base. The one I use is a random cheapy number that my sister brought home from Tenerife; OPI Bring On The Bling and Models Own Gold Finger are similar. Wipe the brush on the neck of the bottle so that there's just a small amount of glitter left on it. Begin at the tips and drag the brush back towards the middle of the nail using a light touch: it's easier to get that jagged effect if you do this than if you paint on a glitter French tip horizontally and then try to pull out skinny strands of glitter.
Advertised
Finish with topcoat, or skip it altogether to keep the glitter looking a little gritty and the overall look a bit more edgy.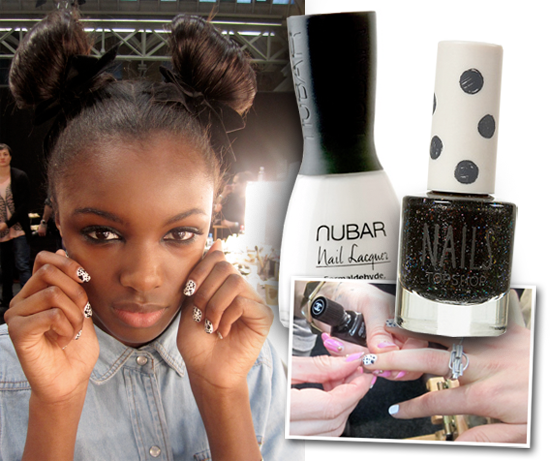 If you're in the mood for something a bit more cartoonish, look to London and the Dalmatian print nails at Topshop Unique. Sophy Robson was behind the black on white spotted talons, which she says were created using a matte white polish and irregular splodges of Topshop black.
Pix via sophyrobson.com and refinery29.com