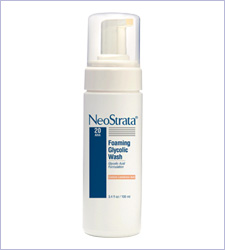 As regular readers know, we just had a NeoStrata competition where five lucky readers got the chance to win one of these products. And lucky Aphrodite and myself got a couple to try out too! Yay, we love freebies!
But what is NeoStrata Foaming Glycolic Wash, and why is it good? Well, it's an extra-strength foaming cleanser which formulated with glycolic acid (an AHA), along with the antioxidant PHA lactobionic acid, and it cleanses and prepare the skin for your moisturiser.
If you're quailing a bit at the mention of glycolic acid, fear not. This is a wonder ingredient that can stimulate collagen and elastin in the dermis, making you look smoother and younger, and it can also help with skin scarred by acne as it helps even out 'pits' on the skin. It has loads of other science-y benefits too, like it fights free radicals on the surface of the skin, and it can increase the moisture retention properties of the skin, helping it look smoother and plumper.
Repeated use will leave the skin smoothly textured and may reduce the appearance of fine lines and wrinkles. This all sounds excellent. Because of the strength of the product, some users say they experience a tingling sensation when they apply it, but I didn't notice anything like that.
Advertised
I used it for a few days with no problems and then I started to notice that my skin texture became quite rough and 'pebbly'. "Steady", I told myself, "this is just the AHA's doing their magic and all will be well". After a few days of "eek, will it ever go back to normal?", I woke up one morning and found that my skin felt much softer, and even with a hangover I was quite literally glowing! And if that wasn't recommendation enough, one of my male colleagues complimented me on my skin this morning.
I am amazed at the difference, blemishes and patchiness seem reduced and oily areas like my nose and t-zone look cleaner and tighter. This is actually a product that works! It can be a bit hair-raising while it's doing its job, and my skin is also slightly dry after it too, so I'm lavishing on the moisturiser a few times a day - but the results are worth it.
As AHA's work to resurface your skin, you do need to ensure that you use sunscreen while you're using the product, and for one week after, to minimize the risk of sun sensitivity/sunburn.