 In a market saturated by eyeshadow palettes, we've lost the love for single eyeshadows. We all have access to a wealth of online makeup tutorials, so we are generally quite sophisticated about our makeup application. Most people are au fait with using more than one shade of eyeshadow to create a look. The days of Auntie Jean's terrifying expanse of 'sea foam' all the way up to her eyebrows are mostly gone. And thank goodness for that.
That said, it can be nice to keep things simple. Sometimes, there just isn't time to be arsing about with four different shadows and eyeliner. Generally, the rule for wearing just one shade is either to keep it simple with a nude shadow, or to choose something bold which is either a bit sparkly or iridescent. This will keep it from looking flat and reminding people of Auntie Jean dancing vigorously at a wedding in 1986.
The Colour Riche Mono Eyeshadows from L'Oréal Paris come in thirty-six shades and three finishes - matte, opalescent and shimmer. I have two to show you - Macaron Vanille, a matte nude, and Mauvie Star - an iridescent purple.
The formulation is almost damp, like a gel, but it dries to a powder finish. As you can see from the photos, the purple shade is very vivid in the pan, but slightly less so when swatched. I was a bit disappointed by it as I really had to pack it on to get an intense finish. Macaron Vanille is a lovely everyday nude, and the opacity is great.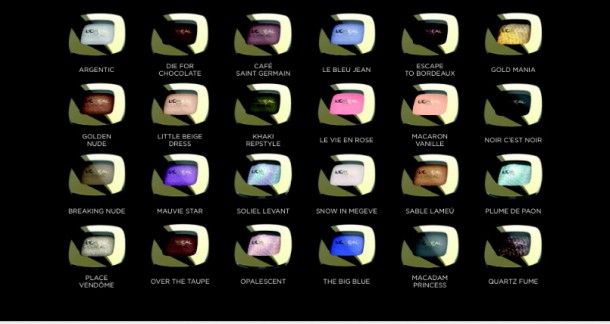 Advertised
The huge range features some gorgeous shades - the shimmers in particular are  beautiful - but the opacity doesn't seem to be consistent throughout the range. These are definitely worth a gander, but swatch before buying to make certain that your chosen shadow has a level of intensity you're happy with. These are available now at €7.99.
A good eye primer is tough to find. The best known ones, like Urban Decay Primer Potion, can be quite expensive. Along with this range of shadows, L'Oréal have released a nifty Color Riche Eyeshadow Primer Pencil. I like the pencil - there's no faffing about with liquids. Just apply directly to your lid and blend with fingers. This has great grip and helps to intensify the opacity of any shadow you apply on top. Given the €8.29 price tag, I'd call that a success!
Are you liking the look of these new offerings from L'Oréal? Or do you think mono eyeshadows should stay in the past with Auntie Jean's rendition of 'My Way'? Let us know in the comments!