 Aldi have really ramped up the number of beauty items on offer in their Specialbuy gifts range. We're like Tasmanian Devils in the aisles, spinning around and whooshing items into our baskets for testing.
Now, we were impressed with the Hyaluronic Gel and then slightly less so with the 3D nail kits. And now Aldi's Irish Le Mara Organic Seaweed Skincare Range has come along. 
Actually, it has come back and is newly extended. Containing antioxidant rich seaweed that is hand harvested on the West Coast, the range features a body lotion (€3.99), body butter(€3.99), face mask (€4.99), face cream (€5.99) and a salt scrub (€5.99).
As per Aldi usual, they are cheap as chips but we got our paws on the whole collection to check out for you. We had a rummage through and the first thing to note is that the packaging looks decent and they smell good too. We sampled the scrub, lotion and butter in the office and now I've smuggled them out under my coat so that they can live in my shower and I can really give a full review. But we want to let you know about them now as they hit shelves tomorrow and will be jumping into baskets at the speed of seaweed-y light!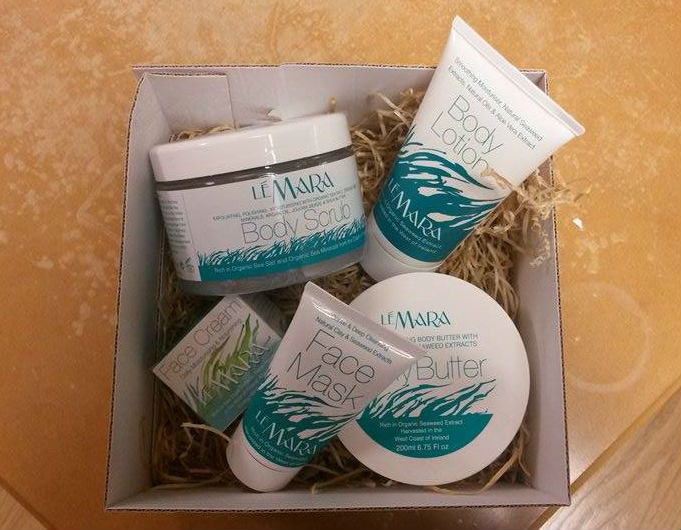 Advertised
As separate items they are nice but since Christmas is (always) on our minds we think that the whole range would make a lovely gift set. The whole set comes in at under €25 which is a great price for five generous sized products.
All together, this is an attractive looking set that wouldn't look astray in somebody's boudoir. You can even channel your inner Mary Fitzgerald and get crafty with a gift box. Just a suggestion mind. Don't come running to us if you cut yourself with the scissors.
Does this latest release from Aldi take your fancy? Would you put them together in a gift basket? Do you have any other Make 'n' Do inspired gift ideas? Let us know!