 We have no qualms about admitting that we are not in a monogamous relationship with any mascara.
I have at least eight on the go at any one time. None of them know about the others, but I keep one in the bathroom, one under the stairs and  one in my handbag. There's one in the kitchen and one in various makeup bags about the place. I visit them all regularly. I tell them they're the only one for me,and then the minute I get the chance, I cheat on them with a new guy. There's no one mascara that can satisfy my womanly needs.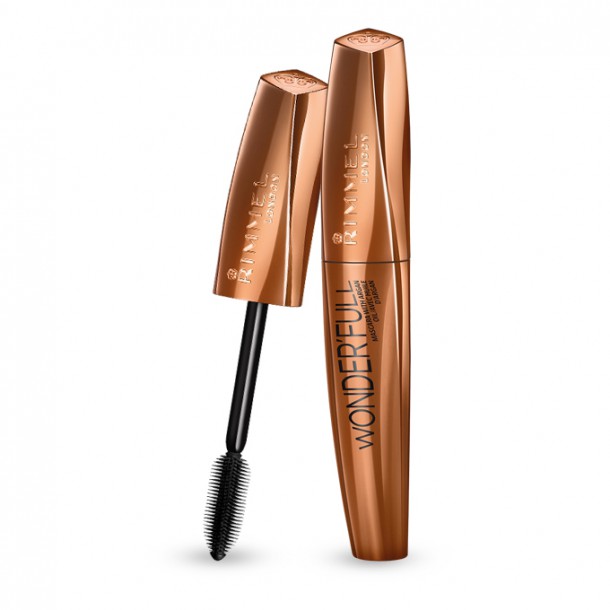 Because I NEEDS nice eyelashes.
They have to be long. They have to be separated - you clump on me and you're gone. They need to enforce a curl on my straight, lazy lashes and I want volume volume VOLUME.
With an open mind, I readily cheated on my existing mascaras with this new offering from Rimmel. Wonder'full (the name is punny in an old fashioned way that makes me smile for some reason) mascara is enriched with Argan oil. That seems to be the thing, these days. We don't just want a great effect; we want something that nourishes lashes and helps them to grow.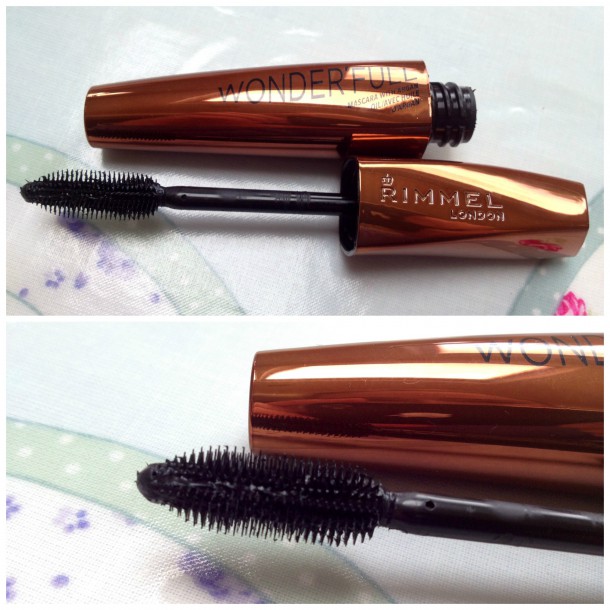 Advertised
I tried not to fling it out the window when I saw the rubber wand.
Resisting the urge to retreat into the loving arms of mascara number four (HE has a traditional brush, unlike this hipster), I persevered. The formula seems thin, though very black, and it doesn't clump ominously on the end of the brush,which I like. It smells a bit like burning tyres, but you can't have it all...
One coat will give your respectably big, separated daytime lashes which are just black enough. Two coats bumps it up to an evening look, though a little bit of twirling and fiddling with the brush is required to keep clumps at bay. Also, it's best with this mascara to apply both coats while the lashes are still wet. If you're looking for something to apply more of at the end of your work day to 'embiggen' lashes for evening, this isn't your man. It just clumps when applied to dry mascara.
Overall, this is versatile, has a nice consistency, great pigment and feels soft and non-crispy on the lashes. Because it is rather flexible and non-crunchy, it doesn't flake at all!
Advertised
I'd call that a success. Rimmel Wonder'full mascara is available nationwide for €9.99, and is currently on offer at Boots for €6.99. Sure WHERE would you be going?
Do you like the look of this, and will you be giving it a go? Let us know in the comments. Don't worry, your other mascaras need never know...