 How often should we scrub our bodies and give them a full spa treatment? We reckon once or twice a week with this easy exfoliation method.
There are a few things in life that bore me to death and I dread doing them. They are menial tasks like washing my hair, hair removal, applying tan and grooming my nails. I will have to do these things for the rest of my life. I think that's why I find them such a pain. Because they are endless and will have to be done a couple of times a week forever.
Looking after my body is one of those tasks. Like everything, it's easy to put effort into things when there is an imminent problem. If you have a giant spot, you will give it all your attention without a second thought. Of if you have keratosis pilaris (those pesky bumps that appear on the backs of your arms and legs) you will give them your attention. However, when there is no problem we tend to neglect ourselves.
Even though I'm aware of all the benefits, I often neglect body exfoliation. But it is an important anti-ageing and preventative method of looking after your body. I believe that you can over-exfoliate your face, but your body will benefit from regular exfoliation. It is excellent for boosting circulation and increased blood-flow will help reduce the appearance of veins, and give your skin an over all healthier appearance.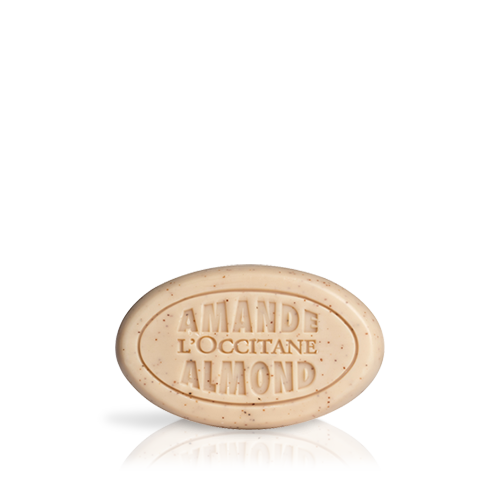 Advertised
This almond exfoliating soap by L'Occitane is a little piece of genius. First of all, I have recently realised that I love anything that is almond scented. This surprises me as I'm not a fan of marzipan but almond scented - I love it. This soap smells delicious and becomes so creamy in the shower. Usually, I prefer to exfoliate my body in the bath because it's more practical. It's not easy, you know, standing on one foot in the shower while you try to scrub your other foot with an exfoliating cream that is just sliding away with the water. This fits in the palm of your hand; you can just cup it and gently rub it all over your body for a full scrub and exfoliation in one.
It has nourishing sweet almond oil to hydrate the skin and then it uses crushed almond shells to buff away dead skin cells. It is quite rough against your skin but in a good way - your body is nourished and revitalised in a couple of minutes. This is the most effective and easy to use in-shower scrubber I have ever had the pleasure of washing with. I love it most for making a boring task a little quicker, easier and more enjoyable.
What's your go to method of body at-home body treatment?