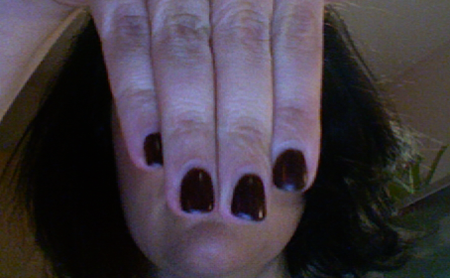 (another desperate picture taken with my webcam)
Last week I told you all about a nail treatment I'd had at Nail Bar. The Everlasting Love manicure promises three-to-four weeks of wear, and costs €60 (€65 for French). One week on, what do I think?
Well - it's still on! Seven days of wear and tear have left it in almost perfect condition. The top coat's looking a little scraggy and I'll remove and replace that today, as advised, but in general, the gel is in rock-solid condition. The colour looks great, there are no dents or chips, and the tops of my nails, where polish always wears badly, look perfect. The only place it's looking a bit off is on the bottom left hand side of my right thumbnail - it peeled  a little here, but nothing I couldn't put a stop to.
The verdict? Colour me impressed.  And guess what? Two of you can be as well - because the kind folk at Nail Bar have given us TWO Everlasting Love Manicure vouchers to give away! Want to win? Check after the cut to see how.
UPDATE: the winners are Sarah Lawlor, Co. Dublin and Aiste  Vekrike, Co Kildare. Congrats gals and please allow 28 days for delivery.
Advertised
COMPETITION CLOSED!
THE QUESTION: What street is Nail Bar located on? (Hint - check the original post for a bit of help)
HOW TO ENTER: Send your answer plus your NAME and FULL POSTAL ADDRESS (please give us an address you'd like your prize to be sent to) to [email protected], making sure to mark your entry 'Nails'
THE RULES: One entry per person; you must have an Irish postal address, north or south; there is no cash alternative; our decision is final and the competition closes today, Thursday 21st January 2009 at 5pm. We never share your details with any third party.