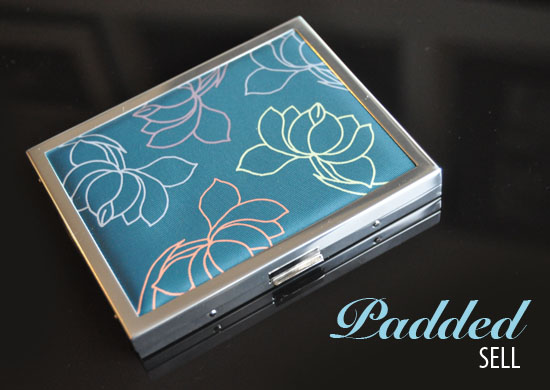 This little bit of cushioned lovliness is on-counter now, and it's by Laura Mercier. Yeah, I know - colour me surprised, because it's a bit of a departure for she who is so fond of brown plastic packaging, but the metal and fabric construction of the Zen Garden palette helps make the €60 price a bit more justifiable.
And it's padded! Just like those old-skool dressing table sets, all this needs is a layer of glass on top of the fabric to firmly root it back in times retro. But never mind all that, because what you want to know is what's going on inside, eh?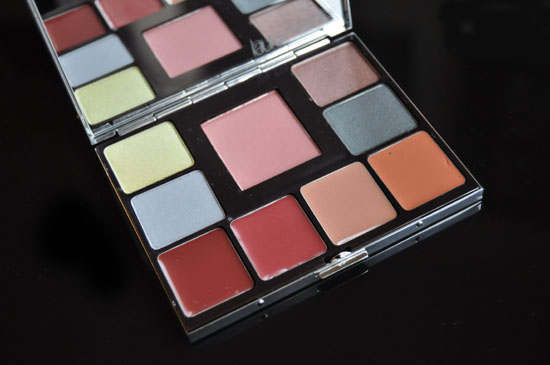 Not sure now if I find the accord of the shades all that zen, to be honest. With four shadows, four lip glazes and one blush, the palette is designed to take you from day to night, but perhaps only if you really do favour a very subtle look. Which is, of course, the ethos of the brand, to be fair.
Advertised
Lets work from the middle out, shall we? That there is blush in plum, and to the left of it we've two eye colours in willow and haze; on the right are wisteria and midnight jade. Midnight jade is lovely, a deep bluey teal with some subtle sparkle.
To the bottom you've got the quad of lip treats in black currant, lotus blossom, stone beige, peach blossom. Given that this is La Mercier, shadows are medium-pigmented, I'd say - though wisteria, a colour I'd unfortunately never use, has the most beautiful creamy consistency and I can imagine would wear like a dream. The pastels, willow and haze, are light and more like washes, and as they're meant for day, that's the sense in that, I guess.
Lip tints are not as scary as they look and are nothing at all like Bobbi Brown's Pot Rouge, which they resemble in the pan. They're quite sheer, very definitely lip-friendly and lovely and glossy. Lotus blossom and peach blossom would be my picks, but they're actually all nice and wearable.
Whaddya reckon? A nice summer palette that ticks all the boxes or do some of the shade choices jar for you?