 Primers are just wonderful. Whether they're for skin, eyes, lips or lashes, they are products I can't live without. You see, when you work in the make up field, one of your major considerations is to make sure that the make up you apply to your client not only looks and feels natural but above all else, that it lasts all day - if not two days. The answer to this is, of course, primers.
In fact, to let you in on a little industry secret, it's the layering of little and many products, and not by use of a lot of product that keeps your make up as fresh as it was the moment you put it on your face in the morning that holds it on all day long.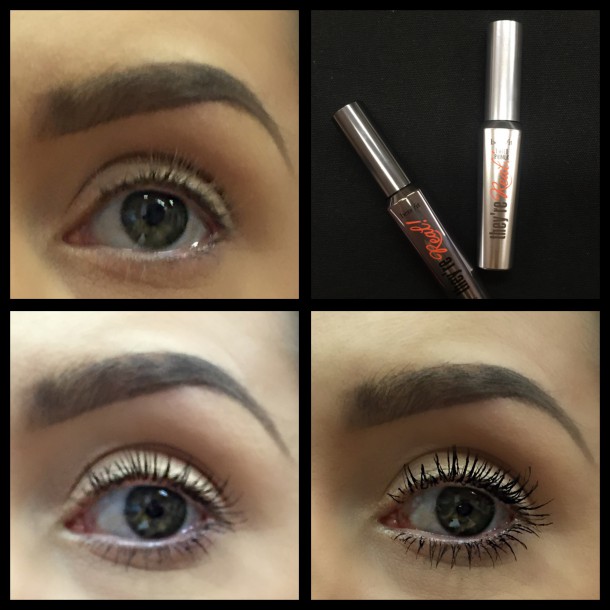 This morning I was busy trying out Benefit's new lash primer, which I have documented for you above. The top left pic is my eye au natural. The top right shows the products I used: the They're Real Tinted Primer in the light silver tube and They're Real Mascara in the dark silver tube. The photo on the bottom left is with primer only and the photo on the bottom right is with primer and mascara.
Benefit's new primer is said to tint, define and prime lashes and it can be worn with or without mascara due to its mink-brown tint. The formula is gel based enriched with conditioner and pro-vitamins and it's water resistant.
Advertised
My thoughts -  the tinted primer is good. It's the first time I have seen an eyelash primer in tinted form, which makes it act as a brown mascara and therefore it's a multi use product (which I love). Would I wear it on its own? Probably not, but then again I always like a fuller and darker look to my lashes. It did however, define and separate my lashes and gave them somewhat of a feathery look, and if that's the look you like, then you won't be disappointed with this product. When I applied They're Real mascara on top, I was happily impressed.  It didn't clump or stick my lashes together. It really boosted the length and volume for an all round dramatic effect.
The only downfall I find with Benefit's They're Real, is the removal. I find you really need an oil based, heavy duty eye make up remover to get it off and even then, I find there is residue. I'm pretty much obsessed in making sure ALL my make up is off before bed, and I'm not a fan of spending hours doing so. I also have sensitive eyes, so harsh eye make up removers irritate them, and I end up with watery eyes for hours after. I am yet to see what the removal is like having used the primer first, so I'll keep you posted on that one.
Are you a primer fan? Or do you prefer to go without?