 We're all good people here. We all take life seriously. But, if there ever was the slightest chance of the tiniest of hangovers - you need the Soap & Glory Bright and Pearly Radiance Boosting Cocktail
Bright, radiant skin in a bottle this is, and that's the only thing to it. I needed it, badly, a couple of weeks ago after ending up in Whelan's on a Wednesday night to catch Arcade Fire's after gig set. (YES! I was there!) Thursdays are not meant for feeling...delicate...and I was not performing at peak Miriam. I came to work sans makeup which is highly unusual (I'll be honest; I got up too late to apply it), but I did manage to rub in my usual morning layer of serum and moisturiser. My skin still looked dehydrated, grey and dull.
When I got to work, I remembered this little product I had been meaning to try and that Thursday was the perfect time to try it. I massaged in Bright and Pearly Radiance Boosting Cocktail right there at my desk, and guys, my colleague asked if I'd had a facial. Let that sink in.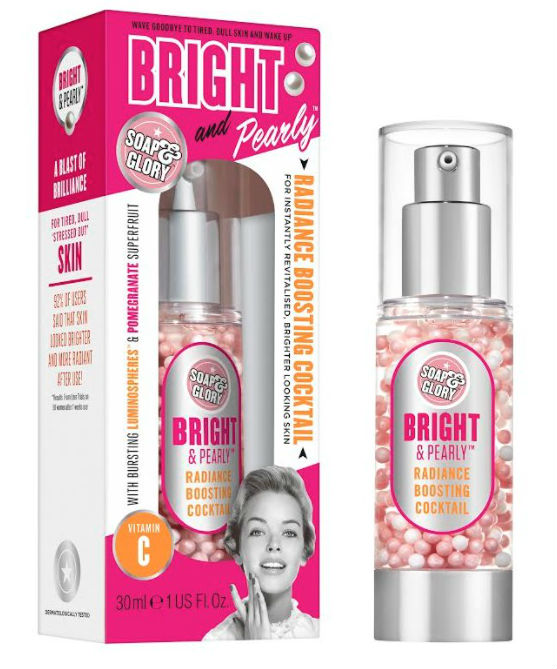 Soap & Glory Bright and Pearly Radiance Boosting Cocktail €18
With its potent mix of fruits and vitamins, the Bright and Pearly promises to pep up lacklustre skin. And it delivers. It really, really does. My skin's default setting is 'dull', and it instantly looked brighter.
Advertised
Its USP is the 'luminospheres' which burst open as you press the pump, leaking all the good stuff. It contains Pomegranate Superfruit - a renowned antioxidant - and "Vitamin Ace" complex. (Vitamins A and E and a triple dose of Vitamin C.)
It's a serum, so should be used under your moisturiser, but I slathered it all over my face about an hour after I had applied moisturiser that morning. I say it can be used on its own for an instant radiance boost, and Soap & Glory suggest mixing it with foundation for a 'party glow'.
This product is rare in that you can see an immediate difference to the look of your skin. It is, therefore, essential for those days after the night before. It's a life saver and I predict it will become a cult classic.
The Soap & Glory Bright and Pearly Radiance Boosting Cocktail will be available in Boots stores and on Boots.ie from July.