 Smudged, bleeding lipstick is just the pits. A girl can go from looking all glamorous 1950's pin-up to more 'dragged through a bush' with just a smudge of red lipstick.
You can avoid the 'The Joker' makeup look forever with this little gem, the Prep and Prime lip by MAC. The primer comes in a roll-up and you apply it before your lipstick. Think of it like velcro for lipstick. Your lipstick will adhere to the primer, keeping it in place for longer and preventing it from smudging and bleeding out or feathering. It's particularly useful when you are wearing bolder lip colours, I always use it if I'm wearing a strong lip colour because it's so noticeable if a bright lipstick smudges or bleeds.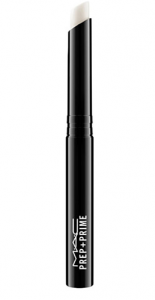 Advertised
But take note of this application tip: you need to apply it evenly all over your lips and out past your lip line onto the skin. It fills in all the tiny, fine lines at the edge of your lips where lipstick usually bleeds into. It will also smooth your lips and create a perfect base for your lipstick to stick to.
When you put it on, it feels balmy and smooth with almost a silicone texture to it. Wait about 30 seconds and it should start to feel a bit tacky. This means you're ready to go in with your lipstick and lip pencil. You'll find your lip pencil glides on easily over it instead of dragging across the dry skin at the edges of your lips. You should get a really smooth application from your lipstick too - even if it's a matte texture - and it will enhance the colour.
If you love a bold lip, this will change your makeup life forever! What are your lip colour picks for Spring/summer 2017?