 When it comes to dark circles around the eye area, there are a few things to keep in mind.
Making sure you're drinking enough water, and your product choices can help massively. But genetics, unfortunately, play a huge role.
The 'dark circle' around your eye can come in many colours. Some of us have sallow tones, some purples, some red and some blue. This product is one of my personal favourites for those of you with a blue toned dark circle around the eye area.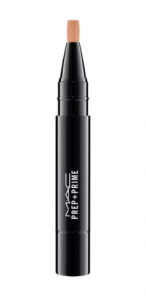 MAC Prep and Prime Radiant Rose €21.50
This gem of a concealer works a treat when applied correctly, and can reduce those circles by bouncing the light away from the dark circles and colour correcting at the same time.
Advertised
The obvious product to compare this with is the YSL Touche Éclat, and the main point of note is that there is more coverage in this product. It also gives you a gorgeous highlight. It seems to blend and melt in with your skin, and the finish is quite pixilated, which I love.
My Top Tip
Apply from the inner corner of the eye underneath almost hitting the top of your cheek and bring it all the way back up towards the top of the ear. It's also gorgeous down the centre of the nose, cupids bow, and outer corners of the lips. Basically anywhere that needs lifting.
Blend it with a damp beauty blender and powder on top to set.